posted by Jaden
In this Chinese Sausage and Rice Recipe, you will learn:
Easiest way to cook Chinese sausage
How to make savory sweet soy sauce that is drizzled on the rice
How to store Chinese sausage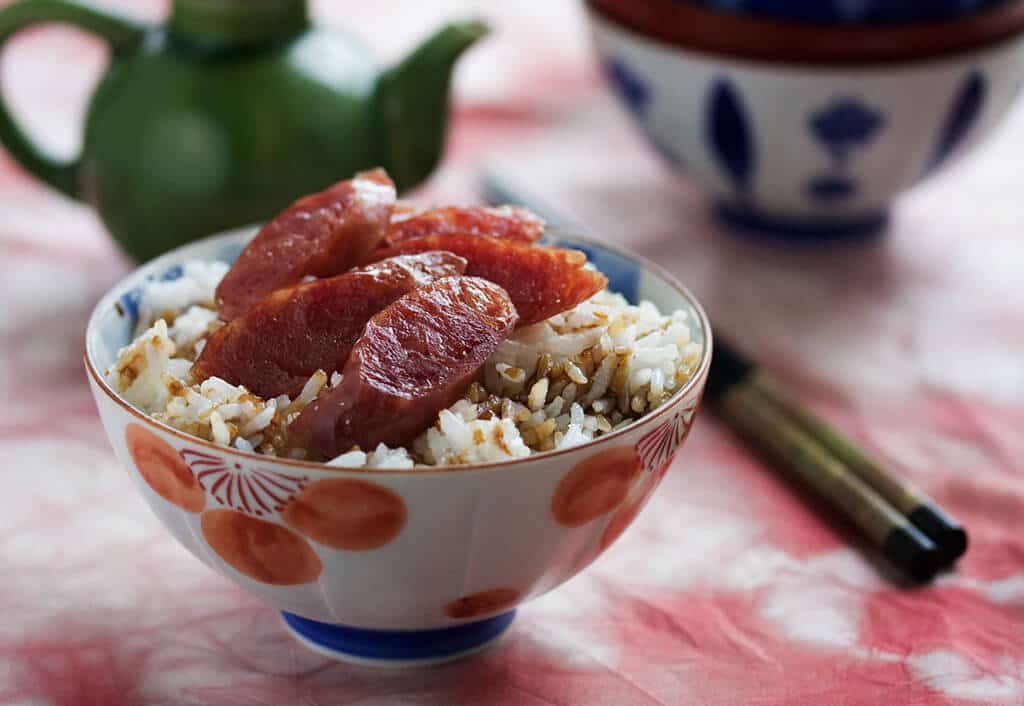 Chinese sausage – 臘腸 lap cheong (Cantonese) làcháng (Mandarin) is a cured sausage usually steamed or diced and stir-fried in a wok. 
Chinese sausage is unlike any meat you've ever eaten before. "Lap Cheong" 臘腸 is made most popularly from pork and fat. The sausage is marinated, salted and smoked. You can also find Chinese sausage made from duck liver or pork liver too (darker deep reddish/brown color).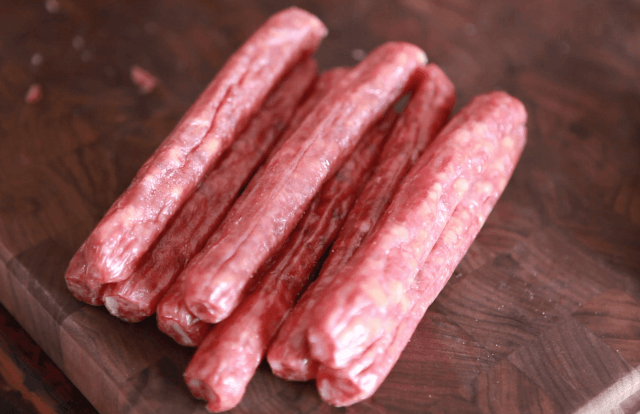 Chinese Sausage Flavor
Sweet-salty, smokey, savory and unctuous with little pockets of fat that just melt during cooking. Think of candied bacon. Or when maple syrup from your pancake pools onto your thick bacon. That's about the closest I can get to a description.
How to Store Chinese Sausage
Most Asian supermarkets will stock Chinese sausage – since it's dried, cured and smoked, the package will last for over a year if unopened (also check the expiration date on package). You can also freeze the package for a long time If you've opened a package and only use a few links, wrap the remaining tightly in plastic wrap and refrigerate for up to 6 months or store in freezer.
I prefer Chinese sausage WITHOUT liver. Read the package carefully – the liver sausage is darker, like a blood-red color. Regular pork-based Chinese sausage is a dull-brick red color.
 If you've got a Chinatown in your area, sometimes you'll find Chinese sausage hanging by string like the photo above! (photo source)
Easiest Way to Cook Chinese Sausage
The easiest way to cook Chinese sausage is to snuggle the links into the same pot (or rice cooker) you are cooking rice. The fatty sausage will cook and flavor the rice at the same time.
Sweet Soy Sauce to Drizzle over Rice
Years ago, Mom taught me her recipe for a simple sweet soy sauce. This is a sauce that you'll find drizzled on Chinese Clay Pot Chicken & Rice. We love this sweet soy sauce just with Chinese Sausage and rice.
The sauce starts with flavoring oil with garlic and shallots in the wok, and adding a combination of soy sauce, dark soy sauce and rice wine.
Dark soy sauce is a dark, thick, sweeter, less-salty soy sauce used in braises and sauces.
If you don't have dark soy sauce, that's okay. Substitute with regular soy sauce and a teaspoon of honey or molasses.
Chinese Sausage and Rice Recipe Video
More Chinese Sausage Recipes
Pressure Cooker Chinese Sausage and Brown Rice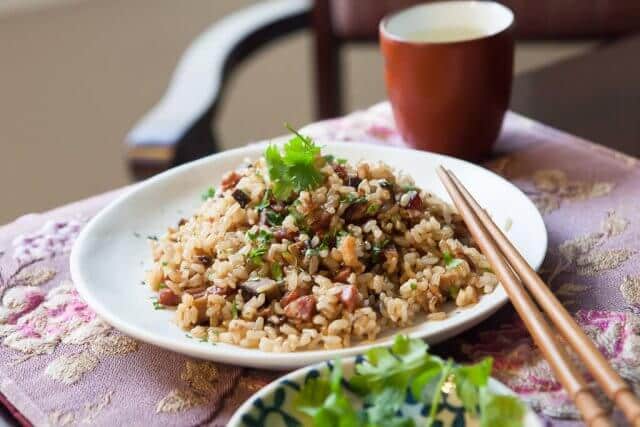 Brussels Sprouts with Chinese Sausage
The Sweet Soy Sauce is optional – trust me, the Chinese Sausage will have plenty of flavor alone. Cook the Sweet Soy Sauce while your Chinese Sausage and rice cook. The Sweet Soy Sauce includes dark soy sauce. If you do not have dark soy sauce, substitute: with 2T regular soy sauce + 1 tsp honey or molasses.
Course: Main Course
Cuisine: Chinese
Keyword: chinese sausage, rice
Servings: 4 people
Calories: 584 kcal
Author: Jaden
For the Chinese Sausage and Rice
1 1/2

cups

long grain rice

jasmine rice preferred

2 3/4

cups

water

4

Chinese sausage links

or more
For the Sweet Soy Sauce
1

tablespoon

cooking oil

neutral flavored (vegetable, canola)

2

cloves

garlic

smashed

1

shallot

roughly chopped

1/4

cup

soy sauce

2

tablespoons

dark soy sauce

for substitute, see notes at top of recipe

1

tablespoon

Chinese rice wine

or dry sherry

2

tablespoons

sugar

2

tablespoons

water

1/4

teaspoon

Asian sesame oil
Cook the Chinese Sausage and Rice
Let's wash the raw rice grains fist. Fill a pot with the rice and cold water to cover. Use your hands to swish the rice grains, loosening any extra starch and dirt. Rice (like beans) is a raw ingredient and it is important to wash and rinse! Washing also rids the rice of extra starch, which will give us light, fluffy, airy rice – not heavy, sticky and starchy. Tip the pot and carefully pour out the water. Repeat two more times. Drain as much water as possible from the pot. 

Measure and add in the 2 3/4 cups of water.

Snuggle the sausage in the rice grains. Turn the heat to high. When the water near the edge of the pot starts bubbling, cover the pot and reduce the heat to low. Cook for 18 minutes. Note: While the rice is cooking, make the Sweet Soy Sauce. 

When the rice is finished cooking, turn off heat and keep covered – no peeking! Let it sit with the lid on for 5 minutes to finish the steaming process.

Remove the sausages (careful, they are hot!) and slice them on the diagonal into 1/2-inch-thick pieces. Arrange the sausages on top of the rice and drizzle the Sweet Soy Sauce on top. Serve extra Sweet Soy Sauce at the table for drizzling.
Sweet Soy Sauce
In a small saucepan, add in the oil, garlic and shallot. Turn heat to low and let the garlic and shallot cook slowly until they begin to brown but not burn. Use a slotted spoon and remove the shallots and garlic and discard, leaving the flavored oil. Add remaining ingredients and simmer until thickened, about 2 minutes.
Nutrition Facts
Chinese Sausage and Rice Recipe – with Sweet Soy Sauce
Amount Per Serving
Calories 584 Calories from Fat 351
% Daily Value*
Total Fat 39g 60%
Saturated Fat 12g 60%
Cholesterol 85mg 28%
Sodium 1801mg 75%
Potassium 361mg 10%
Total Carbohydrates 36g 12%
Sugars 13g
Protein 19g 38%
Vitamin C 3.9%
Calcium 3.7%
Iron 10.7%
* Percent Daily Values are based on a 2000 calorie diet.

Source: https://steamykitchen.com/26666-chinese-sausage-rice-recipe.html