The rules of cookie math, whether or not you have underlings dictating them to you, are as follows:
Cookies with butter > cookies without butter
Cookies with vanilla bean > cookies with vanilla extract
Larger cookies > smaller cookies
Cookies with fewer words in the title > cookies with more (see: chocolate, butter, Oreos)
Cookies with rainbow sprinkles > cookies with chocolate sprinkles and also all other things, ever
A while back, I shared a picture of a sprinkle-covered leftover cookies from an Italian-American bakery — you know, the kind that seem to be permanently staged in every office kitchen, everywhere — on Instagram asking how people felt about them and received a yield of comments and fervor of opinion usually reserved for political websites. Here, at least, we had some consensus: they're the best (sprinkles! nostalgia! coooookies!) but mostly the worst (artificially flavored, butter substitutes, gummy sprinkles, usually stale). The resolution was clear: make your own at home with real butter and even better vanilla.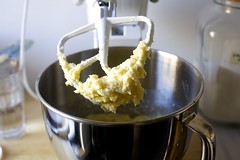 I thought this would be the simplest thing, ever, but a few things happened on my way to rainbow sprinkle sugar cookie nirvana, only some of which are likely to happen to you. A quick trip to the magical baking supply store on 22nd Street, you know, the one with an entire aisle of sprinkles, had a completely unsatisfying rainbow sprinkle mix in stock — no blues, no greens, and before I could question the rationality of my own impulses, I had 9 different single-color sprinkle packages in my basket and went home to make my own totally more satisfying rainbow sprinkle mix. I regret nothing. Stop saying I have a sprinkle problem.
The next problem was that I'd mistakenly assumed that the classic American sugar cookie — you know, butter, sugar, an egg, flour, vanilla, dropped from a spoon, baked until they're all soft-centered and crisp-edged and your apartment smells like birthday cake — was one of those things where everyone had settled on the perfect recipe. Not quite. My first cookie spread into a butter-greased (but delicious, of course) puddle. My second were stiff and stale the next day. My third looked right, but quickly turned brittle and packaged-like. Finally, I turned where I should have began my search because really, who knows better than the genius bakers at King Arthur, and added cream cheese to the dough and this produced a tender-bellied complex sugar cookie I think we should all make as soon as possible.
The end? No, I had one more problem: I'm lazy, impatient and a slew of other lamentable qualities such as not being sorry about this at all. I don't want to wait for butter to soften and I don't want to use multiple bowls to make a dead-simple sugar cookie. And so I made them with cold butter and in the single bowl of a food processor and now you know that you can too. Which brings me to the final rule of cookies:
Cookies you can make and eat as soon as the craving strikes > cookies that require patience, as if they don't understand the nature of cookies at all
One year ago: Liege Waffles and Mushrooms and Greens with Toast
Two years ago: Strawbery Rhubarb Crisp Bars
Three years ago: Japanese Vegetable Pancakes
Four years ago: Warm Crisp and a Little Melty Salad Croutons
Five years ago: Leek Toasts with Blue Cheese
Six years ago: Leek Bread Pudding and Oatmeal Pancakes
Seven years ago: Black Bread (still my favorite bread project) and Ranch Rugelach
Eight years ago: Martha's Macaroni and Cheese
Nine years ago: Pineapple Upside-Down Cake and Pickled Garlicky Red Peppers
And for the other side of the world:
Six Months Ago: Apple Cider Sangria and Date Feta and Red Cabbage Salad
1.5 Years Ago: Pickled Cabbage Salad
2.5 Years Ago: Cranberry Orange Breakfast Buns
3.5 Years Ago: Spinach Salad with Warm Bacon Vinaigrette
4.5 Years Ago: Baked Pumpkin and Sour Cream Puddings
Confetti Cookies
Recipe barely adapted from King Arthur, technique and language were tinkered with
If you're using a food processer, no need to soften the butter or cream cheese first. If using an electric hand- or stand mixer, you'll want them softened before you mix the dough. If you're using vanilla bean, which I really love here, I find you can maximize the flavor you get out of it by rubbing the vanilla bean seeds right into your sugar, distributing it evenly and giving it a extra flavor-releasing abrasion. Then use the sugar as written below.
Yield: 4 dozen 2 1/2-inch cookies
3 cups (375 grams) all-purpose flour
1 teaspoon baking powder
1/4 teaspoon baking soda
3/4 teaspoon fine sea or table salt
1 cup (8 ounces, 225 grams or 2 sticks) unsalted butter
1/4 cup (2 ounces, 55 grams or 1/4 of an 8-ounce brick) cream cheese
1 1/4 cups (250 grams) granulated sugar
1 large egg
2 teaspoons vanilla extract or 1/2 a vanilla bean, split and scraped (see Note up top)
1/4 teaspoon almond extract (optional)
1 cup rainbow sprinkles
Heat oven to 375 degrees. Line two baking large sheets with parchment paper.
To make in a food processor: Place flour, baking powder, baking soda and salt in the work bowl and pulse a few times to blend. Add butter and cream cheese in large chunks, plus sugar and blend until mixture is powdery. Add egg, vanilla and almond extracts and run machine until the dough balls together. You'll probably need to scrape it down once or twice to get the mixture even.
To make with an electric mixer: Combine flour, baking powder, baking soda and salt in a bowl and whisk to blend. In a large bowl or the bowl of a stand mixer, beat cream cheese, butter and sugar until fluffy. Add egg and extracts and blend again. Add flour mixture and beat just until flour disappears. In some cases, this dough will feel too soft to roll into balls in your hands; if so, let it chill in the fridge for 20 minutes or so before using.
Both methods: Scoop balls of dough — I like these cookies best with a #40, or 1 1/2 tablespoon, scoop; the texture is less dynamic when made smaller — and roll them briefly in the palms of your hands before dropping them in a bowl of rainbow sprinkles and gently rolling to coat them evenly. I find that the sprinkles adhere much better to tacky exterior of balls of dough that have been briefly warmed by your hands — trust me here.
Transfer balls of sprinkle-coated dough to baking sheets at least two inches apart. Use the bottom of a drinking glass to press down on the cookies until they are about 1/4 to 1/2-inch tall. If you see any bare spots in the sprinkles that bother you, you can sprinkle a few more on top. Bake for 9 to 10 minutes until they look underbaked but lightly golden underneath. [If they're not quite soft in the center, they will be fully crisped through the next day.] Let set on the baking sheet on a rack for a few minutes before transferring to cooling racks to cool the rest of the way. Repeat with remaining cookie dough.
Source: http://feedproxy.google.com/~r/smittenkitchen/~3/rXr6PNmpC8w/