Oh, hi, I am ready for summer now. What did I miss?
Because the first half of this summer was so busy — a manuscript due, a redesign set off into the world, a birthday, and a zillion other bits of happy work/life chaos — I'm in this funny position of looking up for the first time mid-July and realizing that no mysterious person has arrived while I was buried in winter recipe testing and font fine-tunings and filled my freezer with popsicles, put a bowl of heirloom tomatoes on the counter, ready for their caprese closeup [realistically, this doesn't happen even if I had been paying attention, but let me enjoy this rose-colored Pinterest fantasy just the same] and beach? Hadn't seen it since May. I have about seven weeks left to catch up, except I know at least five of those will be buried under recipe testing and book edits, which basically means it's now or never to do all the summer things I haven't yet.
Beach? Check. Swimming? Check. Grilling? Check, check, check. Scheduled 7-hour flight with 4 adults and 5 children to a faraway beach town in the name of vacation? I'm scared but: check! Do everything I can with sweet summer corn while it lasts? Let's get to work!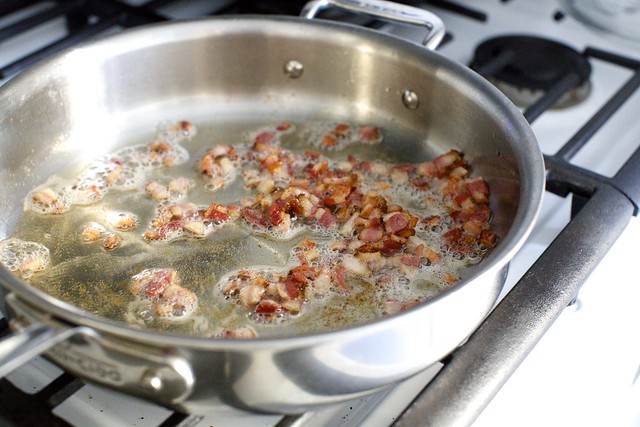 We had some leftover corn on the cob after Father's Day and I shaved it off the cob and sautéed it in the renderings left behind from crispy bits of bacon (also tangentially related to Father's Day), tossed the two with al dente pasta and a bit of cooking water with parmesan, chives and basil and it was really lovely and very summery and, because this is 2016, took a picture of it and posted it on Instagram and promised to share the recipe later and three weeks later, here we are! I am sure everyone was at the edge of their seat. Let my ridiculousness not hold you up: this should be a new summer staple, so easy, happy, kid-friendly and welcoming of all matter of laziness (you can decide to make this 20 or so minutes before you eat it) and adaptations (bacon not your thing? add some diced tomatoes at the end).
Redesign: Thank you for all of your feedback. I'm sorry we've had some glitches (notably, an email newsletter that went out blank save some tacky ads, obviously, I hope, a mistake I hope we've now fixed). Do know that I am going through your concerns one by one and making adjustments, yes, including that ad on top (soon). In the meanwhile, there's a search bar back in the sidebar, seasonal links are back there, the In Season tab should be working now too, and the comment form is back up at the top so you don't have to scroll through. Soon, soon, we will have everything right and well again. In the meanwhile, happy cooking!
One year ago: Very Blueberry Scones and Look What Else We Baked!
Two years ago: Brownie Ice Cream Sandwiches and Easiest Fridge Dill Pickles
Three years ago: Grilled Bacon Salad with Arugula and Balsamic and One-Pan Farro with Tomatoes
Four years ago: Bacon Corn Hash and Peach Pie
Five years ago: Flatbreads with Honey Thyme and Sea Salt and Whole Wheat Raspberry Ricotta Scones
Six years ago: Mango Slaw with Cashews and Mint and Thai-Style Chicken Legs
Seven years ago: Watermelon Lemonade, Light Brioche Burger Buns, Blueberry Boy Bait and Lemony Zucchini Goat Cheese Pizza
Eight years ago: Zucchini Strand Spaghetti, Project Wedding Cake: Mango Curd and Swiss Buttercream
Nine years ago: Quick Potato Pirogi, Ratatouille's Ratatouille, Red Bean Chili and Double-Layer Chocolate Cake
And for the other side of the world:
Six Months Ago: Butterscotch Pudding and Mushroom Marsala Pasta Bake
1.5 Years Ago: Chicken Pho and Pear and Hazelnut Muffins
2.5 Years Ago: Gnocchi in Tomato Broth
3.5 Years Ago: Carrot Soup with Tahini and Crisped Chickpeas and Ethereally Smooth Hummus
4.5 Years Ago: Carrot Soup with Miso and Sesame and Apple Sharlotka
Corn Bacon and Parmesan Pasta
Think of this as a close cousin to the bacon corn hash in the archives. I think this would also be delicious with farro or another grain instead of pasta. If you'd like a creamier pasta, a big spoonful of mascarpone stirred in at the end would be otherworldly; use a little less pasta cooking water if so.
8 ounces dried pasta (I used spirals here and radiatore in the past)
1/4 pound bacon, ideally thick-cut, diced
2 ears corn, shucked and kernels cut from cob
Salt and freshly ground black pepper or red pepper flakes
3 scallions, thinly sliced
1/3 cup finely grated parmesan
Fistful of fresh basil and chives, chopped
If you're hoping to pull this all off in one pan, cook your pasta in a large deep saute pan* until al dente, or 1 to 2 minutes before it is done. Reserve a cup of pasta cooking water and drain. Wipe pan dry if using for the next steps, otherwise, you can get started in a large frying pan.
Scatter bacon in pan over medium-high heat, no need to heat the pan first. Cook, stirring, until evenly browned and crisp. Use a slotted spoon to transfer bacon bits to paper towels to drain. Pour off all but 1 tablespoon bacon fat from pan (save for other fun stuff, like frying eggs) and add corn to it. Season corn with salt and pepper and cook, stirring for 1 to 2 minutes, until crisp-tender. Add pasta and a couple splashes of the cooking water and half the parmesan and toss, toss, toss the pasta with the corn, seasoning with more salt and pepper if needed and adding more cooking water if it doesn't feel loose enough. Add scallions and stir to warm. Stir in bacon and transfer to a serving bowl. Sprinkle with remaining cheese and fresh herbs. Dig in.
* this is my go-to for a lot of things these days because it is both shallow saucepan with a lid and and a big deep frying pan
Source: http://feedproxy.google.com/~r/smittenkitchen/~3/UuwxqeZvTYU/