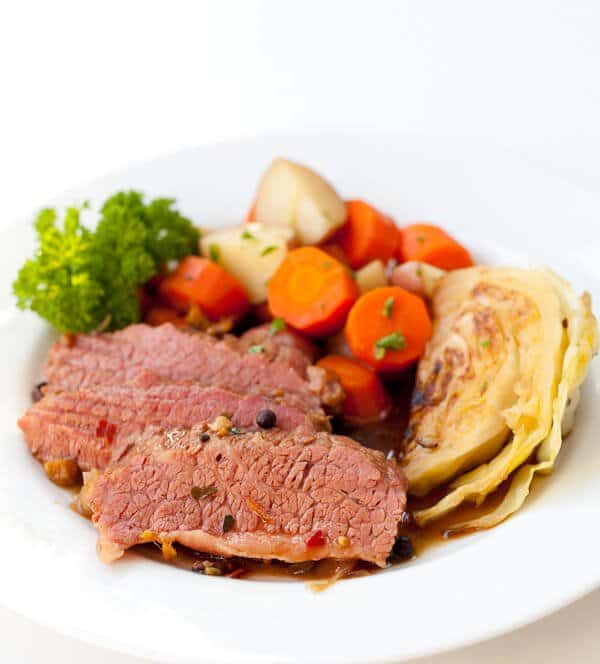 What you'll learn:
Using Guinness beer or an Irish Stout instead of water dramatically increases the flavor of the corned beef. The resulting sauce is dark, rich, complex flavor.
Beef brisket is usually packed in a solution of salts and preservatives – discard the solution and rinse beef before cooking.
Cooking in the oven, low and slow guarantees moist, flavorful, incredibly tender corned beef recipe.
Cooking the vegetables separately prevents the vegetable from overcooking and becoming mushy.
For several years, I used to work for Guinness, based in the San Francisco offices. Actually, I worked for their parent company, Diageo, working on a top-secret technology project and then moving on to their wine portfolio, helping them build their Internet strategy.
One of the perks of working for Diageo, was a trip to Scotland and London, and being immersed in the world of Guinness – from culture to dozens of recipes featuring Guinness as an integral ingredient. Unfortunately, we didn't have time to make a side trip to Dublin, but perhaps in the near future, with my family.
Since that time, I've learned to use Guinness in place of water, stock and wine in recipes. It adds a deep, rich, earthy flavor profile to the dish. Naturally, Corned Beef with Cabbage featuring Guinness was a no-brainer to test.
We normally associate eating Corned Beef with Cabbage during St. Patrick's Day, and ironically, the dish isn't distinctly Irish — it's more an Irish-American tradition, something we made up to go great with copious amounts of beer.
So I thought it would be fitting to braise this Corned Beef in Guinness Beer, instead of water or the "stuff" that the brisket is magically suspended in inside the package.
The "stuff" is a solution of salt, seasoning and other preservatives that I really don't care for. It's also incredibly salty. I always rinse the corned beef well, getting rid of the solution and then pat dry.
Why is it called "Corned Beef"?
After all these years of enjoying Corned Beef several times a year, I finally had the bright idea to actually look up why it was called "corned" beef.  Is there corn involved in the pickling process? Did a "Mr Corned" exist and it was named after him?
It turns out after a simple search, it's an easy explanation. The beef brisket used in making Corned Beef is salt and pickle cured and the salt pellets used resemble corn kernals.
Okay, that makes sense.
How to Cook Corned Beef Recipe with Guinness and Cabbage
For the Corned Beef – you'll need dark brown sugar, 2 bottles of Guinness, pickling spice (only if it doesn't come in your corned beef package, onion, garlic and of course the corned beef meat that's been rinsed very well and then patted dry.
This recipe works well either on the stove, oven or slow cooker.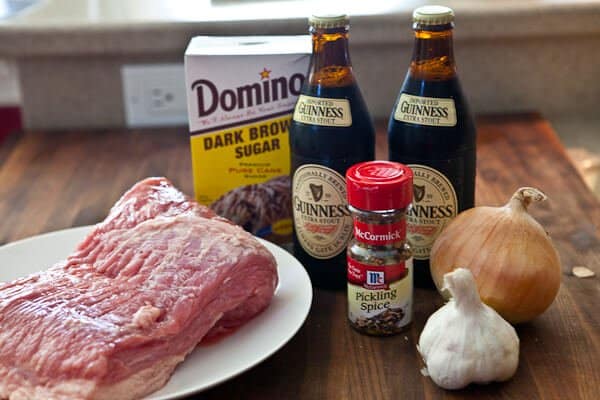 Cut the onion and the garlic in half lengthwise. You'll just need these halves.
In a large pot, combine the brown sugar and the Guinness.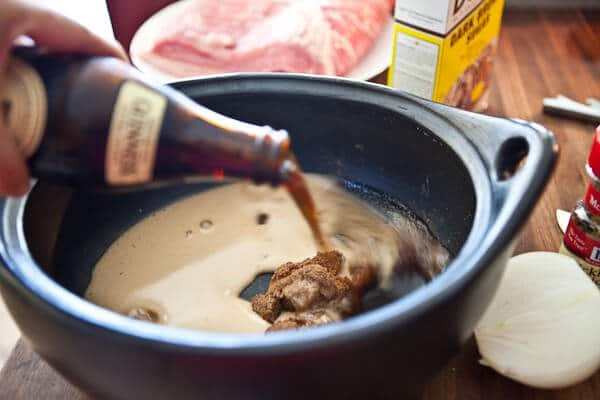 Add the pickling spice, either that you've purchased (recommended) or the packet that comes with the meat.
Add the onion and garlic.
Then slide and snuggle in the beef.
Look at that beer froth!
We're going to slow cook the Corned Beef in the oven, but first, let's give it a head start on the stove and bring the beer to a simmer. Keep an eye on this – beer easily bubbles over and it's a pain to clean. Of course, you could completely skip this route and throw this baby in the slow cooker.
After the liquid begins simmering, we'll cover and slip it into the oven at 300F for 4-5 hours. Low 'n slow.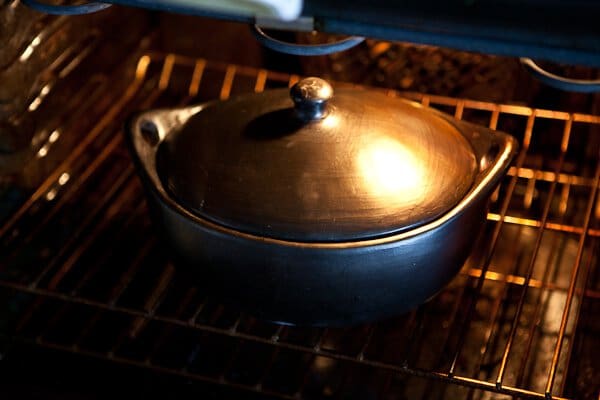 I flip the meat once during the half-way point.
For the vegetables, here's what you'll need: cabbage, red potatoes, carrots and *whispers* Mangalitsa Pig Lard!!! Okay, you don't need Mangalitsa Pig Lard — you could use bacon lardons (a la Michael Ruhlman, which I've borrowed his technique for the cabbage). But if either option just seems over the top, regular ol' cooking oil will do just fine.
Why not throw the vegetable in with the corned beef? Well, two very good reasons:
1) The vegetables really don't need that long to cook – I want my carrots to taste like carrots, not overcooked corned beef sauce.
2) Vegetables cooked with the meat always end up looking all brown and sad. I want my carrots to look like carrots!
Cooking them separately allows me to cook the vegetables perfectly. I add in some of the corned beef sauce to flavor the vegetables – just enough for nice flavor.
Cut the cabbage into 8 wedges, the potatoes and carrots into 3/4-inch chunks.
You'll brown the cabbage wedges on each side. Medium heat, just a few minutes per side.
Then flip to brown the other side.
Next add the potatoes and the carrots.
Pour in 2 cups of the Corned Beef cooking liquid into the pot. The liquid is incredibly flavorful and will do wonders for the vegetables. I promise you, this is way better than just boiling cabbage in water!
Cover and cook for 15 minutes. Carefully remove the cabbage (it should be done by now) and leave the carrots and potatoes to cook for another 5-7 minutes, until they are cooked through. You can check by piercing with a paring knife or fork.
The last step is to sprinkle with freshly minced parsley.
Slice the corned beef and serve with the vegetables. Spoon some of the cooking liquid over the meat.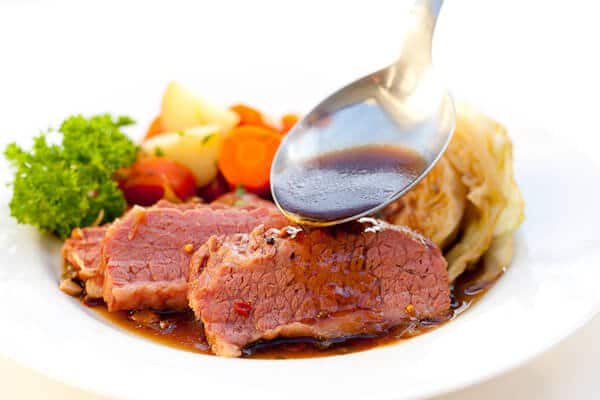 Yum
Guinness Corned Beef with Cabbage Recipe

Normally, brisket for corned beef is packaged suspended in some kind of brine loaded with preservatives and may come with a small pickling spice already. You want to make sure you rinse the brisket well, removing the thick brine. Pat very dry. You can use the small seasoning pickling spice in the package, or you can use your own spices.

You can use a slow cooker instead of cooking in oven.

Ingredients:

For the Corned Beef
2 bottles Guinness beer (or other stout beer)
2 tablespoons brown sugar
3 1/2 pound uncooked brisket for corned beef, rinsed well and patted dry
1 tablespoon pickling spice
1/2 onion


1 head garlic, halved

For the Vegetables
1 head cabbage
1 tablespoon cooking oil
4-5 carrots, cut into 3/4-inch chunks
1 pound of red potatoes, cut into 3/4-inch chunks


2 tablespoons freshly minced fresh parsley

Directions:

1. Preheat oven to 300F. In a large pot, whisk together the beer and the brown sugar. Snuggle in the brisket, it should almost be completely covered by the beer (see photo). Add the pickling spice, onion and the garlic. Bring to a simmer on the stovetop, uncovered is best so you can keep an eye on it. Boiled-over beer is no fun to clean.

2. Once it begins simmering, cover the pot and place in oven to roast for 4-6 hours, flipping meat once during halfway point. Remove from oven. Spoon out 2 cups of the corned beef braising liquid to cook the cabbage.

3. To make the vegetables, cut the cabbage into 8 wedges. In a separate large, wide pot, heat up oil on medium-high heat. When hot, add the cabbage wedges and cook until browned, about a 3-4 minutes. Turn to brown the other side. Add in the carrots and potatoes. Pour in the reserved corned beef cooking liquid, bring to a simmer and cover the pot. Turn the heat to low and let cook for 10-15 minutes. Use tongs or a large spoon to carefully remove the cabbage and reserve. Continue cooking the carrots and potato another 5-10 minutes or cooked though (pierce with fork to check doneness). Sprinkle with parsley and plate up with the cabbage.

4. Slice up the corned beef and serve with the cabbage and vegetables. Pour a bit of the sauce over the corned beef just before serving.
Source: http://steamykitchen.com/14556-guinness-corned-beef-with-cabbage-recipe.html