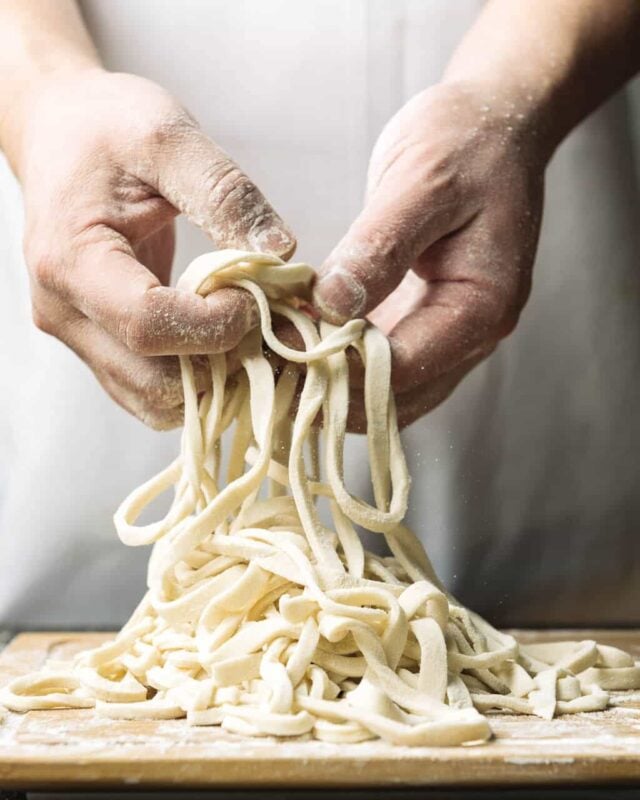 Iron Chef Morimoto teaches us how to make authentic, homemade udon noodles from scratch. The recipe and step-by-step photos is from Morimoto's second cookbook "Mastering the art of Japanese Home Cooking."
The cookbook features Japanese cooking, from classics like miso soup and chicken teriyaki…to dishes that are common in Japanese households, like Omuraisu (omelet with ketchup fried rice) to Sake Shioyaki (salt-grilled salmon).
I had the pleasure of personally trying some of Morimoto's creations at the grand opening of Morimoto at the MGM Grand in Las Vegas. Not only did I get to meet Morimoto, enjoy his sushi, but he even sang in Japanese for us! See end of post for photos of his new restaurant.
Recipe and photos reprinted with permission from HarperCollins Publishers © 2016 Masahuru Morimoto.
Making Homemade Udon Noodles, Morimoto Way
Chef Morimoto says, "Dried udon noodles are fine, Store-bought pre-cooked udon work well. But there's nothing like homemade udon and believe it or not, you can really make the irresistibly slick, chewy, spring noodles at home. Udon takes no great skill. Just water, flour, a rolling pin and a little patience. If kneading the dough, which activates the gluten in the flour and gives the noodles their texture, makes your arms tired, do what home cooks in Japan do: put the dough in a resealable plastic bag, wrap in a towel, and knead with your feet!"
To make homemade udon, knead the dough until smooth, about 5 minutes. Cover dough with plastic and let it rest for about an hour. This will make the dough relax and easier to roll out. *Jaden's note – I like resting the dough for over an hour (timing is flexible here…I've let my dough rest anywhere between 1-5 hours), it just makes it so much easier to roll out!
Use a big rolling pin (Chef Morimoto likes to use a heavy, straight, wooden rolling pin like this one.)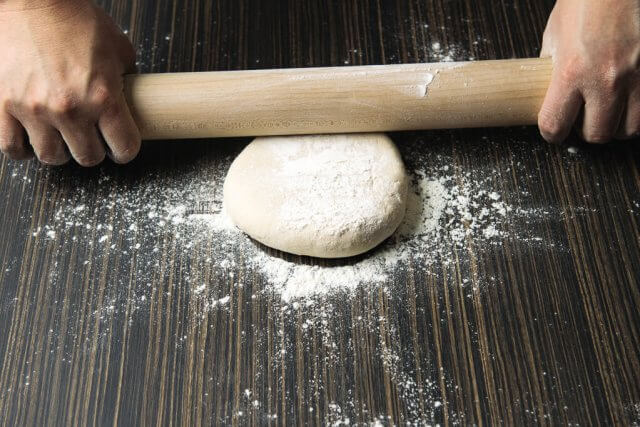 As you roll the dough, occasionally rotate the dough 90 degrees and dust lightly with flour.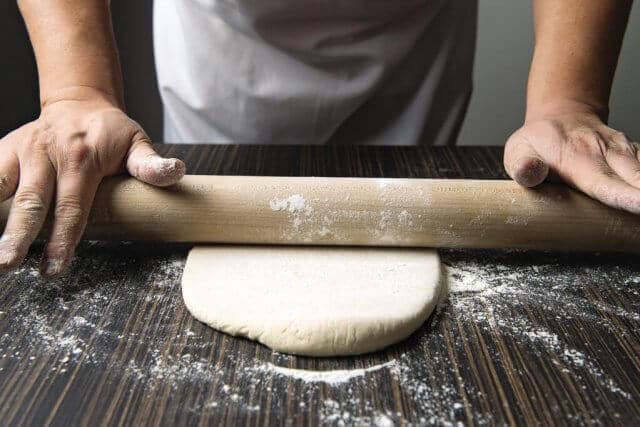 Roll evenly.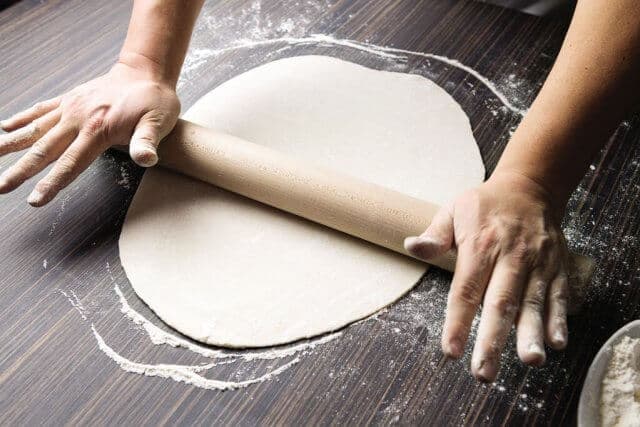 Dough thickness should be slightly less than 1/4″.
If you find the dough resisting too much, cover with plastic wrap and let dough rest for 5-10 minutes.
When you get the dough to desired thickness, fold dough in thirds (like a letter fold) and slice into 1/8″ thick noodles.
Dust noodles with flour and separate. Cook immediately.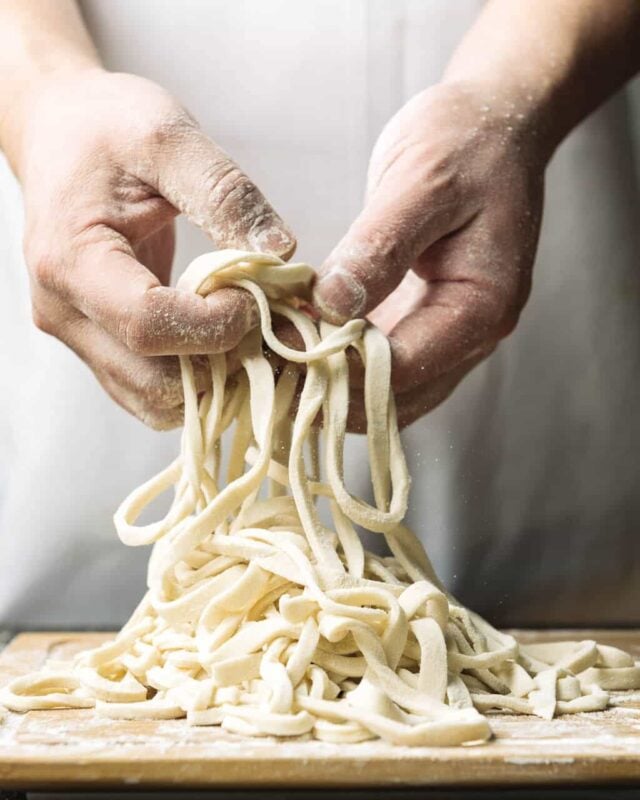 Jaden's Tips for Udon
I am so using making homemade pasta with the help of a machine to roll to desired thickness! The rolling pin method was a bit challenging – getting the noodles to even thickness took some patience.
Try using your hand-crank pasta maker (this one is my favorite) or KitchenAid attachment to roll out to desired thickness, which is just under 1/4″ thick. Fold into thirds, then let it rest for a few minutes before slicing by hand.
Hand-slicing the noodles gives a more homemade feel, I love the unevenness of hand-made noodles.
I separated the dough into 4 balls, this made it easier to roll out, instead of dealing with a massive mound of dough!
Fresh udon takes a little longer to cook than fresh Italian pasta. Let it cook 7-12 minutes in gentle simmer. Cooking time really depends on how thick your noodles are. Check at the 7 minute mark and adjust. The udon should be soft but not mushy.
After cooking noodles immediately dunk them in a ice bath. This will help remove excess starch, stop cooking and bring more "bounce" to the noodles.
If you are serving the noodles in a soup, cook the noodles separately from the broth. Meaning, don't try to cook the udon noodles in the broth itself. Too much starch will be released in cooking process.
The broth for udon noodles soup is simple. Start with the basic recipe, and add vegetables, seafood and meats as you please.
UDON BROTH RECIPE
3 cups dashi
1/2 cup plus 2 tablespoons soy sauce
1/2 cup mirin
In saucepan, combine ingredients and bring to simmer. Serve with fresh udon noodles, garnish with sliced green onion.
Thank you for supporting Steamy Kitchen!
Even if you don't buy the product shown, starting your Amazon shopping here helps us small family business. We get a small commission from Amazon that helps keep this site running free!
Morimoto at MGM Grand Las Vegas

The restaurant is gorgeously designed! It's described as contemporary Japanese, featuring photographs by Yasumichi Morita. During the Grand Opening Ceremony, we got to participate in the traditional Japanese sake barrel breaking.
Yes, he really did sing a capella for us! It was a traditional Japanese opera song.
Homemade Udon Noodles Recipe – Chef Morimoto
Servings: 4
Prep Time: 2 hours
Cook Time: 10 minutes
Ingredients:
5 cups (600 grams) all-purpose flour, sifted, plus more for dusting
1 tablespoon plus 1 teaspoon kosher salt
1 1/4 to 1 1/2 cups water
Directions:
To make Homemade Udon Noodles:
In a large mixing bowl, combine flour and salt. Add 1 1/4 cups water. Use hands to mix until dough starts to come together in a few large lumps. Firmly press and knead the dough, incorporating any loose flour until there is none left. If necessary, add a little more water, 1 tablespoon at a time, until you can incorporate all of the flour.
Lightly dust work surface with flour. Knead dough (folding and firmly pressing with your palm, folding and pressing forcefully) until dough looks and feels fairly smooth, about 5 minutes. Form dough into ball, wrap in plastic wrap, and let rest at room temperature for 1-5 hours.
On a lightly floured surface with ample room, knead it again for a few minutes. Divide dough into 4 equal-sized balls. Dust each ball with flour and cover with plastic wrap until ready to roll out.
Use rolling pin to roll out the dough, occasionally rotating the dough 90 degrees and lightly using with flour if it threatens to stick to the pin, until just under 1/4″ thick. If the dough is too difficult to roll out, cover with plastic wrap, let rest for 10 minutes, and then resume. This rest allows the gluten to relax and makes it easier to roll out.
Fold the sheet of dough into thirds (like a letter fold) and then slice widthwise into approximately 1/8″ thick noodles. Gently separate the noodles and toss them with a little bit of flour, just so they don't stick together. Cook right away.
To Cook Homemade Udon Noodles:
Bring a large pot of water to boil and prepare a large bowl of icy water. Add noodles to boiling water, stirring frequently and adding 1/4 cup fresh water if the water threatens to bubble over, until they are fully cooked but not mushy, 7-12 minutes (depends on how thick your noodles are). Unlike Italian pasta, Japanese noodles shouldn't be al-dente, but don't let them get mushy.)
Drain noodles, transfer to icy water. Briefly and gently rub the noodles with hands to remove some of the starch. Drain from cold water.
Source: http://steamykitchen.com/43189-homemade-udon-noodle-recipe-morimoto.html