posted by Jaden on September 20, 2017
Did you know that you can cook spaghetti squash in the microwave? There's no need to cut the squash, just pierce it a few times (to let steam escape), and microwave the squash whole for 10-15 minutes. Let rest, undisturbed, for another 10 minutes. It should then be soft, easy to cut through and ready to saute with garlic and chopped tomatoes. Finish off with minced fresh basil and a shower of grated parmesan cheese.
Due to a little goof while gardening with 35 seed packets and 2 over-zealous kids, we planted 12 spaghetti squash plants in the garden, enough to supply our entire zip code with spaghetti squash for life.
Thankfully, our backyard chickens have a taste for the leaves and the happy-yellow flowers – and we haven't stopped them from consuming most of the spaghetti squash plants, so now we're left with 3 plants, one of which is barely hanging on. My hens are my heroes!
With a harvest so large, we created different ways to enjoy spaghetti squash, and a shortcut for cooking…in the microwave, whole.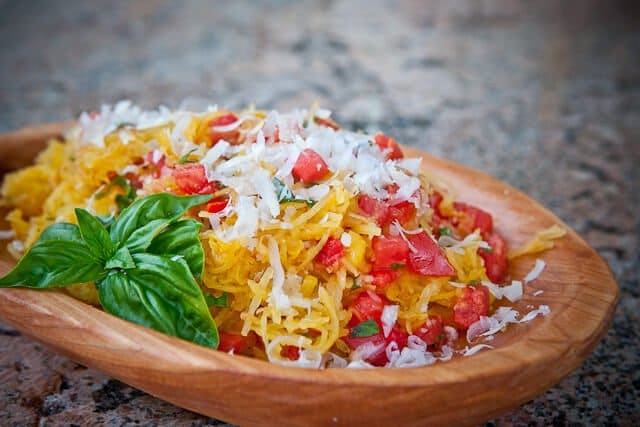 This recipe teaches you how to cook spaghetti squash in the microwave, whole. Once cooked, you'll pull apart the strands of squash, saute with garlic, tomatoes, fresh basil and parmesan cheese.
Why cook spaghetti squash in the microwave?
Cutting an uncooked spaghetti squash is difficult! The skin is hard and thick. Plus, the squash is round, making it wobbly on a cutting board. Microwaving the squash whole eliminates the need for a hacksaw.
To cook spaghetti squash in the microwaving only takes 15 minutes. Baking in the oven takes 60 minutes (here's how to bake the spaghetti squash in the oven, it's just as easy, and you can bake it whole).
Cooking the squash in the microwave saves energy, and leaves your oven free for other dishes.
How to cook spaghetti squash in the microwave
Take a sharp paring knife and carefully pierce the squash in several places all over. It's a hard squash, so it takes a bit of effort to do this. I guess a better instruction would be to say STAB the squash.  The squash is a round, rolly, hard object. These slashes will allow the steam to escape, so that it will cook evenly (and not burst in the microwave).
Put the squash on a plate. Microwave on high for 10-15 minutes (depends on how big the squash is), rotating the squash halfway during cooking.
Put on some oven gloves and remove the hot squash.
I highly suggest a thick towel or oven gloves – remember you stabbed the squash? The squash is steaming hot inside, and some of the liquid and steam may leak out through the stab marks.
I use these Pit Mitts, which look a little funny, but they are amazing – soft gloves that actually fit my hand with rubber grippy grip lines all over. I highly recommend them as I'm not a fan of those traditional oven mitts that make you feel like you're cooking with dinosaur hands.
The squash should offer very little resistance when pierced with fork. If not, return it back to microwave and let it go for another couple of minutes.
Cut the squash open. Be careful, it's hot inside
Once you cut it open, it should look like this. Remove the seeds. If you're only cooking for a small family, just use half the spaghetti squash, and save the other half for another recipe (see end of post for links to other great spaghetti squash recipes)
Remove the seeds with a fork.
Use two fork to scrape out the strands of spaghetti squash. Try a piece of squash – if you feel like it needs to be cooked a little more, don't worry – we'll be sauteing in a pan and you can cook the squash further in the pan. Just make a mental note that you'll need to add a couple minutes of cooking time in the pan.
Saute the Spaghetti Squash
Okay, now it's time to saute the rest of the ingredients – fresh basil, garlic and tomatoes.
Add in the spaghetti squash, toss with tongs. Season with salt, pepper and balsamic vinegar.
Throw in the cheese! Toss again.
Serve right away!
I know you have questions:
Will the squash explode in the microwave?
Nope. Not if you stab it a few times all over. This allows the steam to escape.
How will I know when the squash is done?
You'll know the squash is done cooking when you can easily pierce the squash with a fork with very little resistance.
What do I do with the other half of the spaghetti squash?
Cook these recipes:
Moroccan Spiced Spaghetti Squash (Smitten Kitchen)
Recipe for Spaghetti Squash and Chard Gratin (Kalyn's Kitchen)
Spaghetti Squash with Ricotta, Sage, and Pine Nuts (The Kitchn)
Spaghetti Squash with Sausage (White on Rice Couple)
Spaghetti Squash with Garlic, Butter and Parmesan (Steamy Kitchen)
Print
If you're only feeding 4-6 people, I suggest cooking the spaghetti squash whole, then only using half of the squash when you're ready to saute with the tomatoes. I like my spaghetti squash not too hard, not too soft. It shouldn't be mushy, you should be able to still separate the strands of squash. Plus, in this recipe, you'll saute the spaghetti squash for a few minutes, and it will soften in the pan.
Course: Side Dish
Cuisine: American
Servings: 4 people
Calories: 155 kcal
Author: Jaden
1

spaghetti squash

small

2

tablespoons

olive oil

extra virgin

2

cloves

garlic

finely minced

2

tomatoes

chopped

2

tablespoons

minced fresh basil

1

teaspoon

balsamic vinegar

1/4

cup

grated pecorino or parmesan cheese

salt and pepper

to taste
Using a sharp paring knife, carefully pierce (I really mean stab) the spaghetti squash in a few places (about 6 slashes is good). Place squash on plate. Microwave on high for 10-15 minutes, turning/rotating the squash halfway during cooking.  

I had a 3 1/4 pound spaghetti squash. 12 minutes total was perfect.

The squash is done with a fork very easily pierces through the squash, if there is resistance – microwave for an additional 1-2 minutes.

Carefully (the squash will be steaming hot!), use a chef's knife to cut the squash in half, lengthwise. The squash should be soft and easy to cut. Remove and discard the seeds. Use two forks to scrape apart the strands of the squash. For this recipe, we'll only use half of the spaghetti squash, about 4 cups.

Heat a large saute pan over medium heat with the olive oil. Add in the garlic and cook for 1 minute. Add in the tomatoes and basil and cook for another minute. Turn heat to medium-high and add in the spaghetti squash and toss. Season with salt and pepper and drizzle in the balsamic vinegar. Taste the squash – adjust seasoning. If the squash still needs a bit more time to cook through, cover and cook for 2 minutes. If the squash texture is perfect, toss in the grated cheese and serve immediately.
Nutrition Facts
How to Cook Spaghetti Squash in the Microwave
Amount Per Serving (4 people)
Calories 155 Calories from Fat 81
% Daily Value*
Total Fat 9g 14%
Saturated Fat 2g 10%
Cholesterol 5mg 2%
Sodium 709mg 30%
Potassium 329mg 9%
Total Carbohydrates 15g 5%
Dietary Fiber 3g 12%
Sugars 6g
Protein 4g 8%
Vitamin A 15.4%
Vitamin C 15.1%
Calcium 11.7%
Iron 4.2%
* Percent Daily Values are based on a 2000 calorie diet.
Source: https://steamykitchen.com/19385-cook-spaghetti-squash-microwave.html