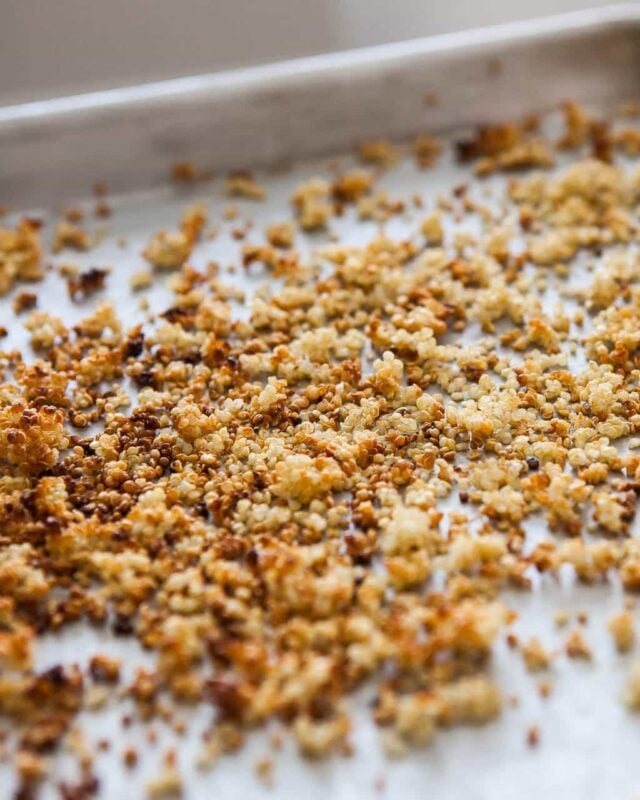 If you have leftover quinoa, this is simple way to change its flavor and texture. You'll learn how to make crispy quinoa without any oil and a tip to ensure your quinoa gets extra crispy.
We're making crispy quinoa to accompany Citrus Salad with Crispy Quinoa recipe from 100 Days of Real Food, Fast & Fabulous by Lisa Leake.
It's best to use previously refrigerated, cooked quinoa. In the refrigerator, the quinoa will have a chance to dry out a bit. If you use freshly cooked, hot quinoa, and try to roast it, the quinoa will continue to "steam" and become soggy and mushy.
However, if you are making a fresh batch of quinoa, here's the best method:
Rinse and drain quinoa if buying from bulk bin. Quinoa has a natural coating called saponin that will taste soapy and astringent. Many packaged quinoa may have been "pre-rinsed", which will save you an extra step.
In a small pot, add 1 cup quinoa + 1.75 cups water. The normal ratio for quinoa is 1 part quinoa: 2 parts water, but we're looking for a slightly drier texture. This will make it easier for the quinoa to dry out while roasting to produce a crispy texture.
Bring to boil. Cover with lid, lower heat to lowest setting, cook 15 minutes.

Immediately uncover pot and spread out the quinoa on a baking sheet to let cool, and to let all the steam escape. Proceed below.
Make crispy quinoa without oil
Preheat broiler and set rack to upper 1/3 position. Roast the quinoa for 5 minutes, stir quinoa and rotate baking sheet. Roast another 3 minutes, but check occasionally. The quinoa should be darkened, crispy but not burnt. Let cool a bit before tossing in the salad.
The quinoa can burn! Keep a watch on it. My burnt quinoa (still tasty, though)
My favorite brand of quinoa
Chosen Foods White Quinoa – 100% USDA Organic, certified Kosher. pre-washed and comes in a resealable bag. "Chosen Foods quinoa is sourced from the indigenous Aymara people of Bolivia. They are farmers of a unique variety of Quinoa called "quinoa royal" or "royal Quinoa".
Ways to use crispy quinoa
Toss in salads
Garnish soups
Use in place of breadcrumbs
Add to your morning cereal
Sprinkle on ice cream
Use in place of sesame seeds
Eat with yogurt
Crunchy topping on mac & cheese (here's Lisa's real food version)
Use this crispy quinoa in Citrus Salad with Crispy Quinoa from 100 Days of Real Food: Fast & Fabulous by Lisa Leake.
Thank you for supporting Steamy Kitchen!
How to Make Crispy Quinoa
Servings: 1 cup
Prep Time: 0 minutes
Cook Time: 8 minutes
If you are using previously cooked, leftover quinoa, just skip to roasting step.
Ingredients:
1 cup uncooked quinoa
1 3/4 cups water
Directions:
1. Rinse, drain quinoa (if buying from bulk bin). Add quinoa and water to small pot. Bring to boil, cover with lid. Cook for 15 minutes. Immediately uncover and spread out on baking sheet. Let cool completely.
2. To roast, adjust rack to upper 1/3 (but not any higher) and preheat broiler. Roast quinoa for 5 minutes, stir and rotate pan. Roast additional 3 minutes, but check frequently. If you have a super powered broiler, you might want to lower rack or turn broiler to low.
Source: http://steamykitchen.com/42967-how-to-make-crispy-quinoa.html