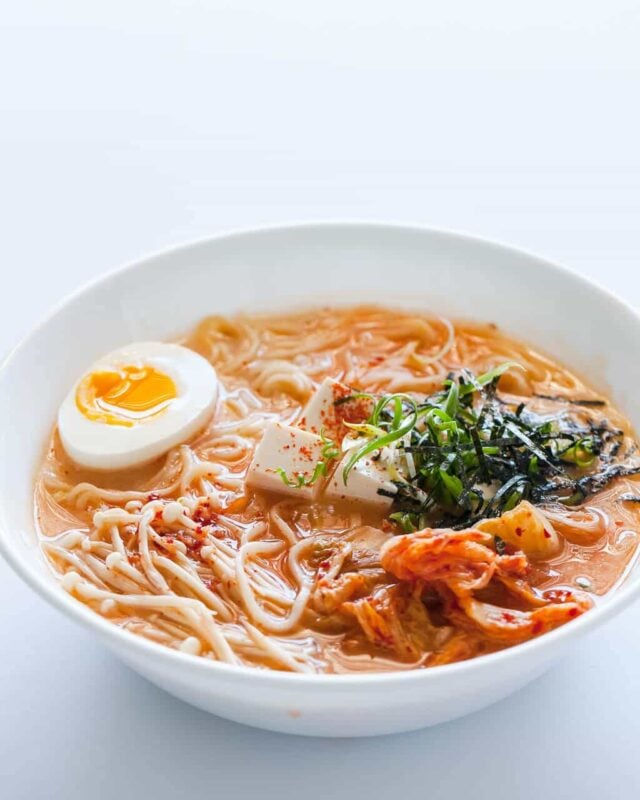 There's no shame in instant noodles. In fact, instant noodles in Asia are very popular, especially the brands that use top-quality ingredients and dry, instead of deep-fry the noodles.
You'll find these brands at a higher price than the 20 cent cup-of-noodles, and they are worth seeking out. Usually priced between $ 2.50 to $ 3.50 per package, high-quality noodle and soup packages come pretty darn close to restaurant-quality flavors. It's a shame to even put these brands in the same category as "instant" noodles.
I'm working with my client, Nissin to teach you about restaurant-quality ramen at home, and how to elevate the experience with three simple, 15-minute recipes. The first is my Kimchi Ramen recipe, a fiery comfort food that can be made in minutes.
Nissin RAOH is brand new to the U.S. and the lineup includes 3 flavors: Soy Sauce Ramen, Tonkatsu Ramen and Miso Ramen.
Dried, not fried
Good quality noodles are air dried, not deep-fried in fatty oils. Nissin RAOH's noodles are triple-layered noodles that are air-dried.
No trans fats
No cholesterol
Little saturated fat (about 93% less saturated fats than regular instant noodles!)
Noodle shape matters
Not all dried noodles are the same! Authentic Japanese ramen is made from water, flour, salt and potassium carbonite (kansui in Japanese) to raise the pH level. It's this alkalinity level that gives ramen its characteristic bite, chew and golden color.
Ramen aficionados also know that the shape, thickness and size of the ramen noodle influences the mouthfeel, broth absorption and how much is flavor is "slurped" in each bite. That's why Nissin differentiates the type of noodle in different ramen flavors.
I'm using the Nissin RAOH Umami Tonkatsu Ramen to make a Korean-influenced Kimchi Ramen. Only 15-minutes to restaurant-quality ramen at home.
To make the Kimchi Ramen recipe, I'm starting with Nissin RAOH Umami Tonkatsu flavor, though you can make this same recipe with any flavor. Tonkotsu is the most popular ramen flavor in both Japan and the U.S. RAOH Umami Tonkotsu features additional layers of flavors (onion, garlic, ginger) in the soup, making it rich and robust.
To the ramen, I'm adding egg, enoki mushroms, Asian chili powder, tofu, seaweed, green onion, and of course, kimchi.
The first step is to cook the egg. I prefer an egg that's right in between a soft boiled and hard boiled egg. I like my white firm, but the yolks silky and velvety. True soft-boiled eggs are really hard to peel without breaking, and I find the whites just too soft for my taste.
Soft-boiling an egg is simple – put eggs into a saucepan, add cool water to submerge the eggs. Bring to a boil, then lower heat to a gentle simmer. Set your timer for 3 minutes. Remove eggs, rinse in cool water and peel. Slice each egg in half.
While your egg cooks, prepare the rest of the ingredients:
Chop green onions
Cut tofu into cubes
Empty Nissin RAOH Soup seasoning packets into a large serving bowl
Measure out kimchi and mushrooms
Once the egg is done cooking, empty the saucepan and measure in 3 cups of water and bring to a boil. Add in the air-dried ramen noodles. Set your timer for 4 minutes, but don't stop – continue on with the recipe and add in the remaining ingredients.
Add in the kimchi.
Mushrooms – I used enoki mushrooms, but feel free to substitute with your favorite fresh mushroom. I also love shiitake.
Tofu – I'm love using silken extra firm tofu, the type that is shelf-stable (no refrigeration needed until you open the package). For soups, I enjoy the delicate, silky-smooth texture.
Asian chili powder.
The chili powder that I am using is called Ichimi Togaroshi in Japanese.
You can also use a Korean chili powder (left). These chili powders is just basically dried, ground chili pepper.  You can substitute with red chili flakes or cayenne powder.
American "chili powder" is very different – this is actually a blend of herbs and spices that you will use to make American chili with ground meat and beans. Avoid this.
Let everything cook until the timer goes off. Then turn off the heat and grab a ladle.
You never want to add the soup seasoning into the saucepan to boil. The seasoning and flavor packet is meant to be added to your serving bowl. Hot water from the pan is ladled into the soup and stirred. Boiling the soup seasonings will cause your soup to become gritty.
Ladle in the hot water from cooking the noodles, kimchi and other ingredients. You'll see the soup seasonings transform into thick, rich, pork flavored soup full of umami flavor!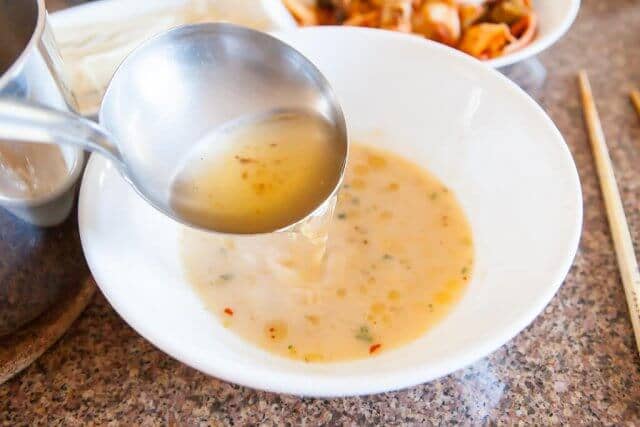 Top with more kimchi, green onions and shredded seaweed.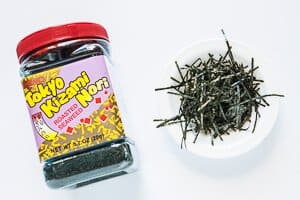 Japanese shredded seaweed is called kizami nori. I love this stuff. It's toasted nori, shredded very finely. I sprinkle it on eggs, Japanese style pasta, any noodle soup dish and sometimes even popcorn.
You can buy this online at Amazon.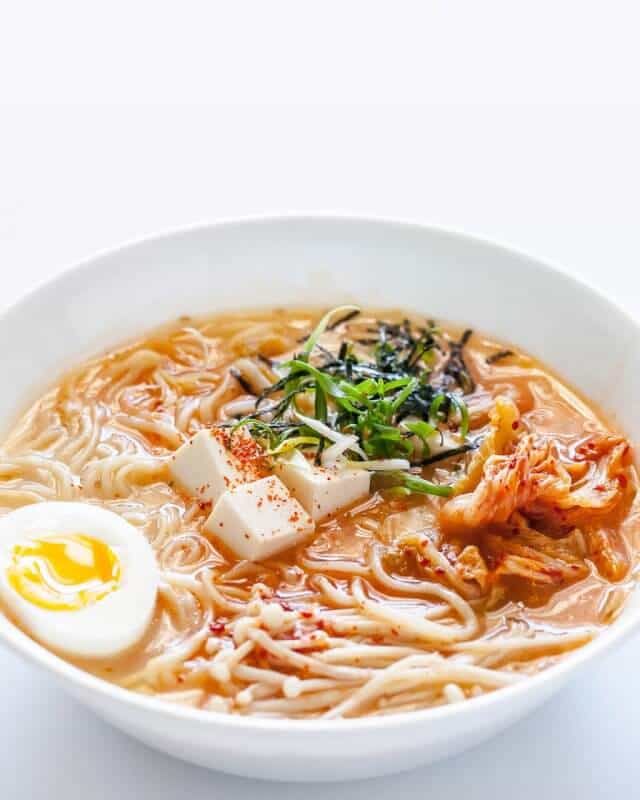 Thank you for supporting Steamy Kitchen!
Yum
Kimchi Ramen Recipe – 15 Minute Recipe

Nissin RAOH Ramen – purchase on Amazon. All flavors – Soy Sauce, Tonkatsu and Miso work in this recipe, though I prefer Tonkatsu the best with kimchi!

Ingredients:

1 egg
1 package noodle soup (I prefer Nissin RAOH Ramen)
1/4 cup prepared kimchi (or more, depending on taste)
1 ounce fresh mushrooms (enoki, shiitake)
3 ounces fresh tofu
1/4 teaspoon Asian chili powder (or cayenne powder)
1 tablespoon chopped green onion


1 tablespoon shredded seaweed

Directions:

1. In a small saucepan, add the egg and enough water to cover by 1-inch. Bring water to a boil, then lower heat for a gentle simmer and cook for 3 minutes.

2. While egg is cooking, trim the mushroom stems, cube the tofu, chop the green onion. In a serving bowl, empty the soup seasoning packet and the flavoring packet. When egg is done, immediately drain water and remove egg. Peel egg and slice in half.

4. Refill saucepan with 3 cups of water. Bring to a boil, then turn heat to medium. Set timer for 4 minutes and add in the dried noodles, kimchi, mushrooms, tofu and chili powder.

Source: http://steamykitchen.com/41429-kimchi-ramen-recipe.html