posted by Jaden on November 20, 2017
This Oven Barbecued Chicken Wings Recipe features a recipe from Food Network's Chef Gabriele Corcos and Debi Mazar.  To make Oven Barbecued Chicken Wings, start with simple, homemade barbecue sauce with peach preserves, bourbon and honey. Season the chicken wings with spices paprika and cayenne pepper. Bake for 20 minutes. Recipe reprinted with permission, from Gabriele and Debi's new cookbook, Super Tuscan.
 Goodfellas and Entourage actress, Debi Mazar and Tuscan chef, Gabriele Coroco, co-host Extra Virgin cooking show on Cooking Channel. Their latest book, Super Tuscan: Heritage Recipes and Simple Pleasures from Our Kitchen to Your Table, features simple family-style recipes made with American ingredients and Tuscan flavors and cooking techniques.
We're sharing with you their recipe for Oven Barbecued Chicken Wings, with a homemade BBQ sauce. Instead of ketchup, which is normally found in American BBQ sauce, Gabriele uses peach preserves, balsamico and a splash of bourbon.
I also wanted to share some of my favorite recipes from the book. I think you'll agree with me, Super Tuscan is a celebration of family meals and simple pleasures.
For your next brunch: Asparagus and Proscuitto Tortino
Comfort food, Italian American style: Baked Truffle Cavatappi
Healthy weeknight meal: Swordfish with Orange Salad
Dinner party with friends: Brined Pork Chops with Sage-Almond Pesto
The perfect finish: Italian Carrot Cake
More Chicken Wing Recipes
Baked Parmesan Garlic Chicken Wings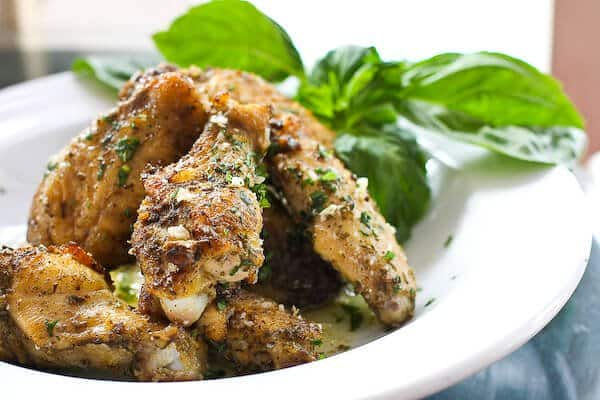 Momofuku Chicken Wings
Cola Glazed Chicken Wings
Sticky Asian Chicken Wings
Grilled Chicken Wings with Honey Miso Sauce
Print
Course: Appetizer
Cuisine: American
Servings: 6 people
Calories: 485 kcal
Author: Jaden
FOR THE SAUCE
2

tablespoons

unsalted butter

1/2

medium yellow onion

chopped

2

garlic cloves

minced

1

cup

tomato puree

1/2

cup

peach preserves

1/3

cup

balsamic vinegar

1/4

cup

bourbon

2

tablespoons

honey

1

tablespoon

Dijon mustard

1

teaspoon

hot red pepper sauce
FOR THE CHICKEN
2

teaspoons

sweet paprika

1½

teaspoons

sea salt

1

teaspoon

dried thyme

1

teaspoon

freshly ground black pepper

1/4

teaspoon

cayenne pepper

4

pounds

chicken wingettes

2

tablespoons

extra-virgin olive oil
To make the sauce: Melt the butter in a medium heavy-bottomed saucepan over medium heat. Add the onion and cook, stirring occasionally, until golden brown, about 5 minutes. Stir in the garlic and cook until fragrant, about 1 minute. Stir in the tomato puree, peach preserves, balsamic vinegar, bourbon, honey, mustard, and hot red pepper sauce and bring to a simmer. Reduce the heat to low and simmer, stirring often, until thickened and reduced by about one quarter, 25 to 35 minutes. Remove from the heat and let cool.

Position racks in the center and top third of the oven and preheat the oven to 425°F.

To prepare the chicken: Mix the paprika, salt, thyme, black pepper, and cayenne pepper in a small bowl. Toss the chicken and oil in a large bowl to coat. Sprinkle with the spice mixture and toss again. Divide the wingettes between 2 large rimmed baking sheets.

Bake for 20 minutes. Remove from the oven and flip the wingettes over. Switch the positions of the baking sheets from top to bottom and continue baking until the wings are golden brown, about 20 minutes more. Transfer the wingettes to a large heatproof bowl. Add the sauce and stir gently to coat the wingettes. Pour off the fat from the sheets. Return the wingettes to a single sheet.

Bake until the sauce is glazed, 5 to 10 minutes. Transfer the wingettes and sauce to a platter and serve.
Nutrition Facts
Oven Barbecued Chicken Wings
Amount Per Serving
Calories 485 Calories from Fat 306
% Daily Value*
Total Fat 34g 52%
Saturated Fat 10g 50%
Cholesterol 135mg 45%
Sodium 760mg 32%
Potassium 475mg 14%
Total Carbohydrates 11g 4%
Dietary Fiber 1g 4%
Sugars 8g
Protein 31g 62%
Vitamin A 18.5%
Vitamin C 8.8%
Calcium 3.5%
Iron 15.3%
* Percent Daily Values are based on a 2000 calorie diet.

Source: https://steamykitchen.com/45504-oven-barbecued-chicken-wings-recipe.html