If you're familiar with our Buddha Bowl recipes, you know how quick, cheap, easy and healthy they can be! They make for great lunches and you can even incorporate leftovers in new and innovative ways, allowing you to save time and money.
But let's face it, sometimes you want that same convenience with a hot, savory meal–especially at dinnertime!
Cue slow cooker (crock pot) One & Done Dinners!
What's a One & Done Dinner?
One & Done Dinners involve cooking your full meal–entrée AND sides–at the same time, all in one crock pot. 
What Are the Benefits of One & Done Dinners?
You save time and precious brain space.
If you're like me, you often have a number of appliances going at once just to get dinner done. The oven. The stove. The microwave. Maybe even a toaster oven. And most times, all the different elements require different cooking times, so you better get the timing down! Before you know it, you're juggling this side and that entrée and it's easy to lose track and leave something cooking a little too long. (If I had a nickel for every time I've burned the garlic bread…)
One & Done Dinners involve prepping and dumping all the ingredients into the slow cooker earlier in the day and just walking away until dinnertime. There is a distinct satisfaction in having nothing to do in the evening except serving yourself food and spending time with those you love. 
You save money.
Most One & Done meals involve cheap veggies and cheap cuts of meat. The magic of slow cooking is that it enables meats to simmer for hours and veggies to marinate in the meat's juice as it cooks, making it all tender and delicious. Forget Filet Mignon or Kobe Beef. Crock pot meals will have you salivating over inexpensive cuts like pork loin, boneless chicken breast or beef top round, making it easy to feed the whole family and still stay on budget. 
You can cook ahead for the week.
Do you sometimes wish you didn't have to cook every night? With One & Done Dinners… you don't have to! 
The beauty of crock pots is that you can make a large amount of food in one day and meal prep for the rest of the week! 
Easy clean up.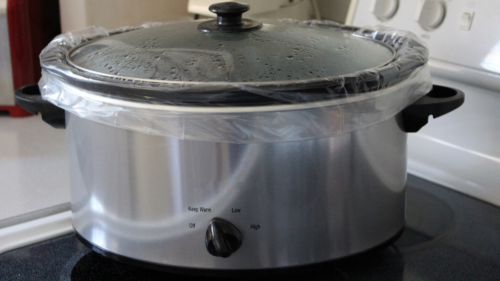 No need to clean up a number of sauce pots and frying pans at the end of the night. You'll only need to clean out your crock pot. And even then… there are workarounds. 
Slow cooker liners are bags that you can add to your slow cooker before the ingredients for SUPER easy clean up. The liner creates a barrier between the food and the crock pot that keeps your slow cooker clean. If cooking in a bag seems weird and potentially dangerous for your health, rest assured that FDA-approved crock pot liners like Reynolds Kitchen Slow Cooker Liners are BPA-free and safe for cooking temps of up to 400°F.
Some Examples of Easy One & Done Dinners
Pot Roast
Forget Dinty Moore. This cheap and easy pot roast recipe requires just a few ingredients and makes a whopping 5 servings!
You only need:
3 pounds of chuck roast
1 onion, diced
3 gold potatoes, diced
3 large carrots, diced
1 packet of dried onion soup mix
1/2 cup of water
salt and pepper to taste
Place the chuck roast into the slow cooker and season with salt and pepper. 
Add in the onion soup mix, all the veggies and the water. 
Cook on low for 8 hours or on high for 4-5. 
It's that easy!
Whole Chicken & Veggies
For 6 servings, you will need:
a 4-pound whole chicken (with giblets removed)
1 pound of carrots, diced
1 pound of baby potatoes, diced
1 tsp garlic powder
1 tsp paprika
1 tsp salt
In a small bowl, mix together the garlic powder, paprika and salt. 
Add the potatoes and carrots to your slow cooker (preferably a 6 quart). Sprinkle half the spice mixture onto the veggies. 
Rub the remaining spice mixture onto the chicken, then place the chicken on top of the veggies in the slow cooker.
Cook 5-6 hours on low or 3-4 hours on high.
An easy dish the whole family will love!
These are just some of an infinite amount of meat and veggie combinations you can use for One & Done Dinners! Did you know you can even cook rice in your slow cooker? What will you be throwing in your crock pot this week?