posted by Jaden on January 1, 2018
This Shrimp Teriyaki Stir Fry Recipe features:
15 minute simple shrimp teriyaki stir fry recipe
Learn how to stir fry shrimp so that it is caramelized on the outside, and perfectly cooked on the inside
How to make a teriyaki stir fry sauce that is light, flavorful and delicately coats each ingredient.
We've partnered with Argo Cornstarch to create this simple stir-fry recipe! -Jaden
Stir frying is a cooking technique, most popular in Chinese cookery, but also used in Japanese cooking (called itameru). To stir fry, ingredients are cut into small, bite-sized pieces, and cooked in a hot wok. Of course, you don't have to use a wok….a large sauté pan with high sides will also work. Frying pans are too shallow, you'll end up losing half of your ingredients as you stir, toss and flip.
Simple Teriyaki Stir Fry Sauce
We're making a very simple teriyaki stir fry sauce that you can use in any recipe (not just this one). Teriyaki sauce is equal parts: soy sauce, mirin (Japanese sweet rice wine) and sake (Japanese rice wine).  If you aren't familiar with these ingredients, its okay! Feel free to use store-bought teriyaki sauce (there's always a bottle in my refrigerator for last-minute cooking).
We'll be using fresh ginger to add a zing to the teriyaki sauce. The best way to mince ginger is to grate the fresh ginger on a microplane zester.
Just a little bit of back and forth on the zester will produce ginger without any tough, stringy fibers.
Combine cornstarch, soy sauce, mirin, and sake with Asian chile-garlic sauce and fresh ginger.
The secret to healthy, lighter stir fries (without the thick, goopy, calorie-laden sauce) is a little bit of cornstarch in the sauce. The cornstarch thickens slightly as it cooks, allowing the stir-fry sauce to lightly coat each and every ingredient, providing flavor in every bite.
Okay, now that the sauce is ready, it's time to stir fry!
The Best Way to Stir Fry Shrimp
The secret to stir frying shrimp is to make sure the shrimp is nicely carmelized and browned on the outside, yet perfectly cooked and light on the inside. If you cook shrimp too long, it gets rubbery. Here's the secret to stir-frying shrimp:
Pat the shrimp very dry with paper towels. Wet shrimp will end up steaming in the pan, and you'll never get caramelization.
The second step is to toss the shrimp in a bit of cornstarch.
The cornstarch will further dry and absorb any moisture, but more importantly, the coating will help the shrimp get the crisp crunchy outside.
Searing the shrimp on both sides in a hot wok, while leaving the inside of the shrimp only partially cooked through, will also ensure the shrimp gets the proper room and heat in order to caramelize. The shrimp will be added back into the wok at a later step to finish cooking.
Heat a wok over high heat, with cooking oil. Then add the shrimp. Try not to over-crowd, and cook the shrimp in a single layer.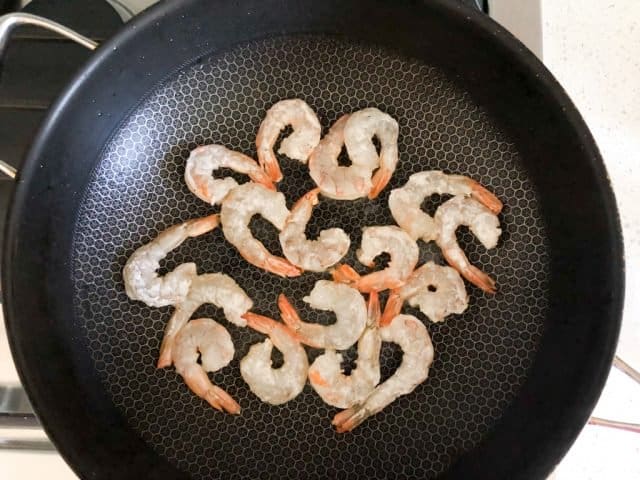 Leave the shrimp alone. There's no need to stir, toss or peek! The more you move the shrimp, the harder it will be to caramelize.
After 30 seconds, take a look!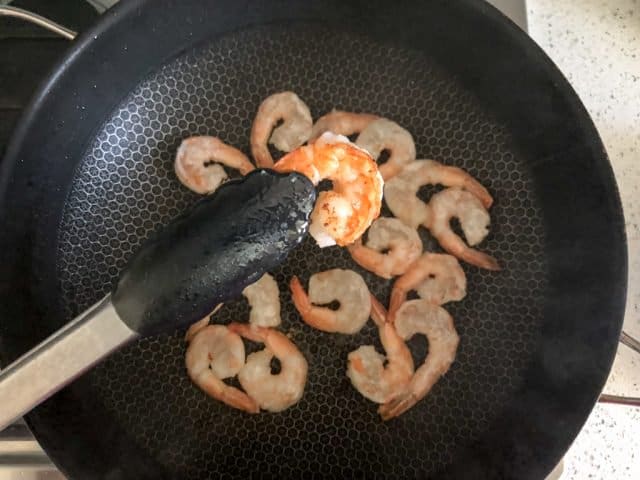 Flip shrimp over and cook an additional 30 seconds to caramelize the other side.
Now remove from wok to a clean plate.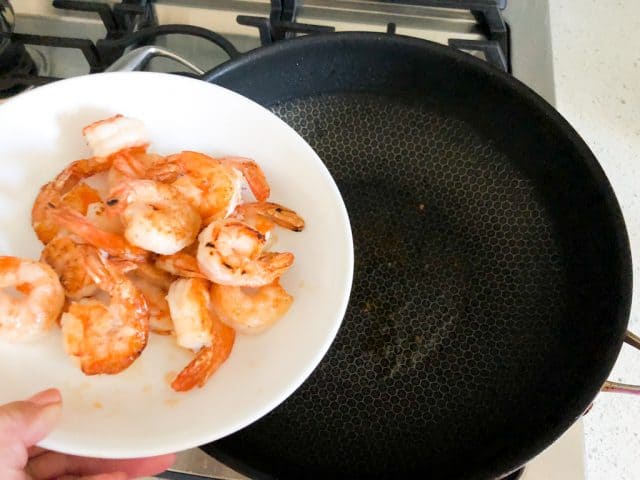 Stir Frying Vegetables
The vegetables should be cut into similarly sized and shape pieces. Onions and bell peppers are sliced, and sugar snap peas are left whole (just remove the stringy bit in the middle).
Once the vegetables are just about cooked through, but still retains a bit of crunch, it's time to add the shrimp back in.
Finishing Shrimp Teriyaki Stir Fry
And also pour in the teriyaki sauce.
Cook until the sauce is bubbly and thickened. By this time, the shrimp and vegetables will be perfectly cooked through.
Garnish with green onion and serve Shrimp Teriyaki stir fry with rice.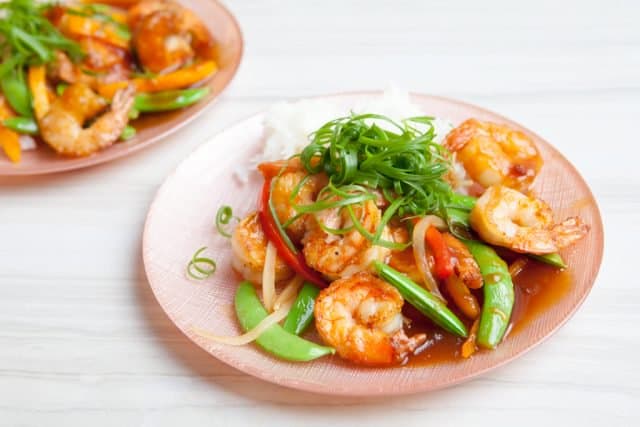 A big thanks to Argo Cornstarch for allowing me to adapt one of their popular recipes, Lite Asian Spicy Shrimp with Snow Peas into this recipe for Shrimp Teriyaki Stir Fry.
More Recipes to Explore
Steak Teriyaki Recipe
Salmon Teriyaki with Mushrooms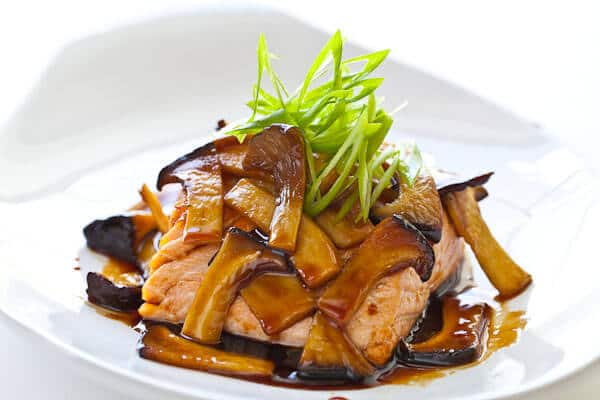 Print
Course: Main Course
Cuisine: Japanese
Servings: 4 people
Calories: 254 kcal
Author: Jaden
1/2

pound

shrimp

peeled and deveined

1

teaspoon

cornstarch

2

tablespoons

neutral flavored cooking oil

divided (like canola, corn or vegetable oil)

1/2

small onion

sliced

1

cup

sliced bell pepper

1

cup

sugar snap peas

1

stalk green onion

chopped or thinly sliced
For the Spicy Teriyaki Sauce
1

teaspoon

grated fresh ginger

2

tablespoons

soy sauce

2

tablespoons

mirin

2

tablespoons

sake

1

teaspoon

chili garlic sauce

optional

1

teaspoon

cornstarch
Pat the shrimp very dry. In a bowl, toss the shrimp with cornstarch to coat.

Heat a wok or large saute pan over high heat. When hot, swirl in just 1 tablespoon of the cooking oil. Add the shrimp to the pan, trying not to overlap. Let cook for 30 seconds. Flip, and cook an 30 seconds. Remove the shrimp to a clean bowl. The shrimp will be half-cooked, we will finish cooking in a later step.

Turn the heat to medium-high. To the same pan, swirl in the remaining cooking oil. When hot, add in the onion and bell pepper. Stir fry for 1 minute. Add in the sugar snap peas and continue to stir fry for an additional minute.

Add in the half-cooked shrimp and pour in the Ginger Teriyaki Sauce. Cook until the sauce comes to a simmer, thickens, and is glossy. Garnish with green onions.
Nutrition Facts
Shrimp Teriyaki Stir Fry Recipe
Amount Per Serving
Calories 254 Calories from Fat 72
% Daily Value*
Total Fat 8g 12%
Saturated Fat 5g 25%
Cholesterol 285mg 95%
Sodium 1514mg 63%
Potassium 257mg 7%
Total Carbohydrates 15g 5%
Dietary Fiber 1g 4%
Sugars 5g
Protein 25g 50%
Vitamin A 29.3%
Vitamin C 83%
Calcium 18.1%
Iron 18.3%
* Percent Daily Values are based on a 2000 calorie diet.

Source: https://steamykitchen.com/45681-shrimp-teriyaki-stir-fry-recipe.html