posted by Jaden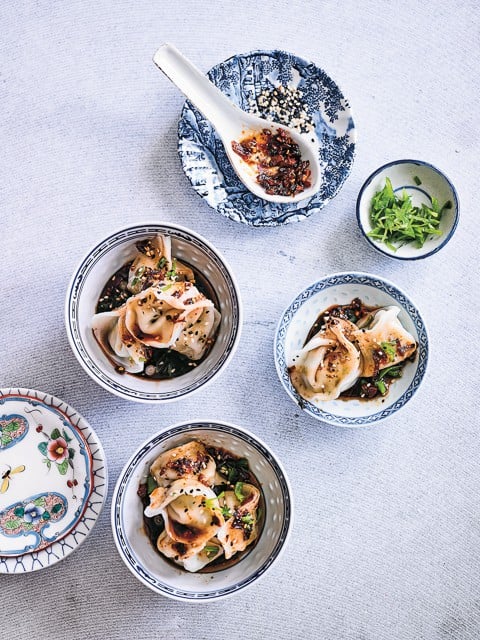 This Shrimp Wonton Recipe in Spicy Sichuan Sauce is from My Asian Kitchen Cookbook by food writer, stylist and cooking teacher, Jennifer Joyce. This is her 11th cookbook! The photo and recipe are reprinted with permission from Murdoch Books.
Making wonton from scratch may seem like a daunting project, but really only takes 30 minutes and 2 special ingredients. If you can find wonton or potsticker (gyoza) wrappers and Chinese hot chili sauce, you're golden!
Wonton Wrappers
You can use with wonton or potsticker dumpling wrappers. What's the difference?
Wonton wrappers are square and a little thinner than potsticker wrappers. These wrappers are can be found in refrigerated or frozen.
Potsticker (or gyoza in Japanese) wrappers are round. They are used to make recipes like these:
Chinese Potstickers (my Mom's recipe)
Mushroom Tofu Potstickers
Pan Fried Pork and Shrimp Potstickers Recipe
Japanese Gyoza Recipe
Dumpling Wrapper Tips
If you are buying frozen wrappers – do not open the package until you are ready to wrap. Defrost the package of wrappers in the refrigerator overnight, or leave them on the counter for an hour or so.
Do not defrost in water. The water will ruin the wrappers and you'll end up with a goopy mess.
Once you open the package, the wrappers will dry out very quickly. When this happens, the edges crack and it will be very difficult to use. If you have cracked edges, use a paring knife and cut off the dry edges. To keep the wrappers moist and pliable, cover all the wrappers with a barely damp kitchen towel at all times.
What do I do with extra wonton wrappers?
Each package of wrappers usually includes 50 or so wrappers. This recipe calls for 30-35 wrappers….and while I've re-printed the recipe as is from the book, I would suggest increasing the recipe 1.5x so that you can use the entire package of wrappers.
You can re-freeze any leftover wrappers. Or, with a bar of chocolate, make Chocolate Wontons for dessert (yum!).
Chinese Chili Flakes in Oil
You can find this at most Asian supermarkets, Amazon. It's basically crushed Asian chili flakes and oil. I once made this sauce from scratch and my house smelled like chilies for days. The chili oil is combined with sugar and vinegar to create the most addicting dipping sauce ever.
It covers the "Five S's" of flavor:
salty
sweet
sour
spicy
savory
The balance of all these components (Five S's) is what makes your tastebuds sing.
How to Fold Shrimp Wonton
There are so many ways to fold wonton – the key is to squeeze out all the air (air pockets make the dumplings float and burst during cooking) and sealing tightly with water (the wontons fall apart if they aren't sealed properly).
The best way is to show you! In my recipe for Pork and Shrimp Wonton – I'll show you how to fold in a quick video.
My Asian Kitchen Cookbook
My Asian Kitchen Cookbook by Jennifer Joyce is such a fun book to explore. Through her travels in Asia, Jennifer has collected her favorite recipes to help you master simple dishes with authentic flavor.
Because Jennifer is a cooking instructor and professional recipe developer for outlets such as BBC Good Food, Jamie Oliver's magazine, and The Guardian, she understands that recipes not only have to taste delicious, but they also must be easy to create for the home cook.
Here are some of the recipes that I've tried and loved from the book:
Grilled Honey Soy Salmon with Citrus Soba Noodles: I didn't have soba noodles on hand, so I used regular 'ol thin spaghetti noodles. In place of yuzu juice (hard to find), I used lemon juice.
The book features traditional classics like shrimp wonton…and also modern takes on Asian food: Korean Grilled Steak Tacos with Kimchee Slaw: I used flank steak (just remember to thinly slice the steak AGAINST the grain). I'll use the kimchi slaw recipe again and again….love.
Prawn Cakes with Peanut Chili Sauce: This Vietnamese dish is a great party finger food. Wrap the shrimp cakes in crisp lettuce cups. I'm making this for again for a party I'm hosting this week. Super easy to make.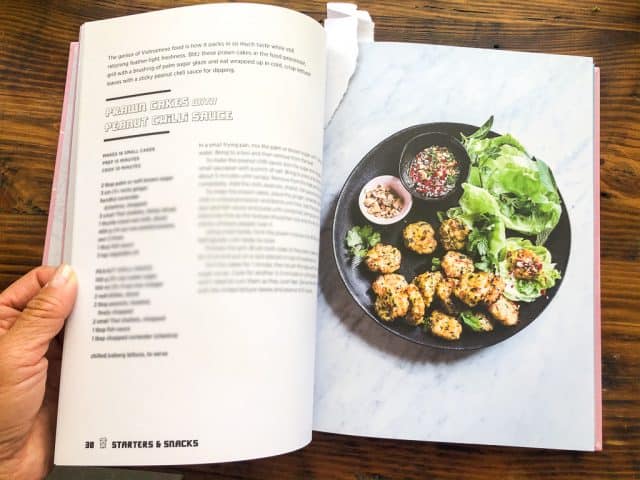 Thai Chicken Stir Fry with Cashews and Chili Jam Sauce: I made this non-spicy by leaving out the chili peppers and substituting the nam prik sauce for a sweet, store-bought Thai Sweet Chili Sauce (not spicy at all). I also added canned straw mushrooms.
Course: Appetizer
Cuisine: Chinese
Keyword: dim sum, dumpling, wonton
Servings: 4 people
Calories: 251 kcal
Author: Jaden
For the Shrimp Wonton
1

clove

garlic

1/2

inch

slice of ginger

peeled

1/2

pound

raw shrimp

peeled, deveined

7

water chestnuts

canned is fine

2

stalks

green onion

green and white parts, finely chopped

1

egg white

2

tablespoons

chopped cilantro

30-35

wonton or gyoza wrappers
For the Spicy Sichuan Sauce
1

clove

garlic

finely minced

1

teaspoon

sugar

2

tablespoons

soy sauce

1

tablespoon

roasted Asian chili flakes in oil, drained

2

tablespoons

black or rice vinegar
In a food processor, purée the garlic and ginger and then add the prawns, water chestnuts, soy, spring onions, 1 teaspoon of the egg white and the coriander. Keep pulsing, leaving the mixture chunky, but together.

Lay out six of the wrappers, keeping the other wrappers covered with a tea towel so that they don't dry out. Place a heaped teaspoon of the filling in each and brush the edges of the wrapper with the remaining egg white. Bring one side over, creating a triangle or half moon. Squeeze out any trapped air. Dab the corners with a little more egg white and cross over, then press them together to form a wonton. Continue until all the wrappers are filled.

To make the spicy Sichuan sauce, mix all the sauce ingredients together and pour into small bowls.

Bring a very large stockpot of water to the boil and have a cup of cold water ready. Add some of the wontons and then add the water. When it comes to the boil again, the wontons are ready to remove. It's best to use a slotted spoon to scoop them out. Drain on a plate. Add the remaining wontons to the water, which should be boiling again. Repeat with the cold water and let cook.

Divide the wontons among the bowls of sauce, top with sesame seeds and chopped spring onions and serve immediately.
Nutrition Facts
Shrimp Wonton in Spicy Sichuan Sauce Recipe
Amount Per Serving
Calories 251 Calories from Fat 18
% Daily Value*
Fat 2g3%
Saturated Fat 1g6%
Cholesterol 148mg49%
Sodium 1330mg58%
Potassium 171mg5%
Carbohydrates 38g13%
Fiber 2g8%
Sugar 2g2%
Protein 19g38%
Vitamin A 99IU2%
Vitamin C 5mg6%
Calcium 113mg11%
Iron 4mg22%
* Percent Daily Values are based on a 2000 calorie diet.

Source: https://steamykitchen.com/48082-shrimp-wontons-in-a-spicy-sichuan-sauce-recipe.html