posted by Jaden
In this Simple Roasted Tomato Sauce recipe, you'll learn why roasting tomatoes produces the best tasting sauce that you can enjoy tonight, can or freeze for later.
Why you'll love this Simple Roasted Tomato Sauce recipe:
You'll love this recipe if you don't care for too-sour, too-tangy tomato sauce.
You can make this sauce with just 2 ingredients: (fresh tomatoes and olive oil) and 2 steps (roasting and blending)
Add sliced garlic and fresh herbs you have on hand, I love oregano, basil and thyme.
Roasting the tomatoes produces a mellow tomato sauce that brings out the natural sugars in the tomatoes.
How to Roast Tomatoes for Sauce
Roasting tomatoes intensifies the flavor, brings out its natural sweetness. When pureed into a sauce (or mashed with a potato masher), the perfect sauce is created for pasta, chicken parmesan or even as a dip for bread.
Cut each tomato in half, drizzle on olive oil. Roast for 25 minutes.
Mash or blend
That's it! TWO steps! No babysitting at the stove.
Roasting Tomatoes for Sauce
You can use any type of tomatoes – roma, heirloom or just regular 'ol tomatoes! You can also use cherry or grape tomatoes too, but they aren't my first choice for a sauce.
Slice all the tomatoes in half (leave whole if using cherry or grape tomatoes). Drizzle on loads of olive oil. Scatter fresh herbs like oregano, basil and thyme. Throw in garlic cloves or slices.
Roast at 425F for 25 minutes.
Puree in a blender, stick blender or a potato masher.
The result is a light, mellow, tomato-sweet sauce that you can freeze for a rainy day.
Another recipe: Marcella Hazan's Tomato Sauce with Onion and Butter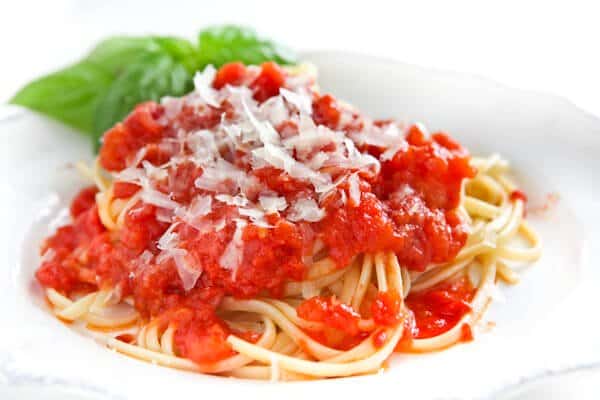 Here's another tomato sauce recipe for you – possibly the world's most famous sauce from America's most respected Italian chef, Marcella Hazan. Her recipe is also simple: canned tomatoes + onion + butter. Marcella Hazan's Tomato Sauce recipe.
What else can you do with roasted tomatoes?
Turn the puree into roasted tomato soup! Stir in 1/4 cup heavy cream and 2 tablespoons butter. Melt shredded cheese on top, serve with chunky croutons and a turn of freshly ground black pepper.
Make Roasted Vegetable Buddha Bowls
Serve a roasted tomato half alongside a hearty steak.
Roasted Tomatoes with Shrimp and Feta from The Kitchn
Spaghettini with Roasted Tomatoes, Basil and Toasted Garlic Breadcrumbs (yum!) from A Beautiful Plate
The recipe really only needs 2 ingredients: tomatoes and olive oil. The garlic and fresh herbs are optional. You can also season with Italian dried herb blend in place of the fresh herbs.
Course: sauces
Cuisine: Italian
Keyword: marinara, pasta, tomato
Servings: 8
Author: Jaden
8-12

large or roma tomatoes

halved

3

tablespoons

olive oil

4

cloves

garlic

sliced

handful of fresh herbs

like basil, oregano, thyme

salt

to taste
Heat oven to 425F. Place tomato halves on baking sheet. Drizzle with olive oil. Scatter garlic and herbs. Roast 25-30 minutes, until tomatoes softened.

2. Puree in blender or use a potato masher. To thicken, simmer for 5 minutes on stovetop. Season with salt to taste.

Source: https://steamykitchen.com/50741-simple-roasted-tomato-sauce-recipe.html