I have been thinking about how it might be cool to do a bake pasta dish in which we swap the noodles for farro but leave all the great parts like cheese, so much cheese, chunks of vegetable and, most hopefully, a crunchy lid for years. Years! In that time, I have cooked hundreds of other things, some even not terrible, even, but it took until I handed my husband the latest Ina Garten cookbook and told him to pick out some things we should eat and he pointed to her recipe for crusty shells and cheese that I thought "This!" I last felt this urgently about swapping pasta for a grain when we made this, three and a half years ago.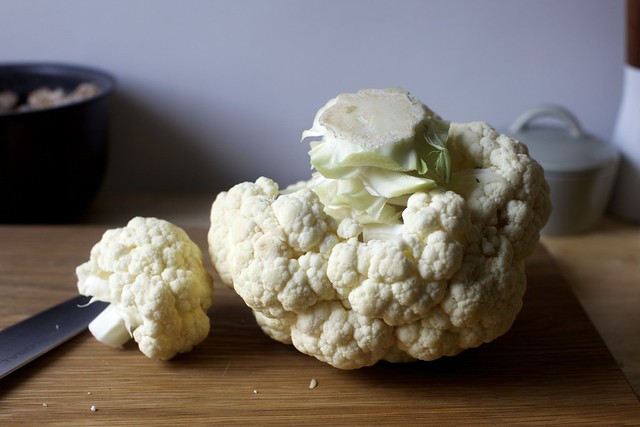 I should not have waited so long. This was wonderful, a perfect example of the kind of cooking I like best: lots of whole grains and vegetables but no compromises in flavor, texture or a bit of indulgence. Nobody ate this for dinner just because they "should" and not just because half our family is under eight and definitely don't care about "shoulds" at all.
I made a lot of tweaks along the way. I felt that 3/4 pound of farro to replace the 3/4 pound of pasta called for would be overkill; I think most of us prefer it as a chewy accent rather than the body of the dish and used only 2 cooked cups. I found that since I was reducing the volume, I could reduce the cheese and oil too. But I kept all the other ingredients intact — capers and lemon zest and a lot of garlic and sage and parsley — and together this was exceptional, wildly flavorful, weeknight-friendly, vegetable-centric and entirely whole grain that tastes luxurious because did I mention the pockets of ricotta throughout? I did not, but you will not forget them. I almost wanted to call this a good macaroni-and-cheese stand-in but that seems unfair to both dishes, a prescription to make it seem like it's coming up short when it didn't taste the way at all.
Previously
One year ago: Ugly But Good Cookies and Swiss Chard Pancakes
Two years ago: Butterscotch Pudding and Mushroom Marsala Pasta Bake
Three years ago: Coconut Tapioca Pudding with Mango
Four years ago: Ethereally Smooth Hummus
Five years ago: Apple Sharlotka
Six years ago: Vanilla Bean Pudding
Seven years ago: Caramel Pudding and Barley Risotto with Beans and Greens
Eight years ago: Fig and Walnut Biscotti and Squash and Chickpea Moroccan Stew
Nine years ago: Crunchy Baked Pork Chops and Pickled Carrot Sticks
Ten years ago: Balthazar's Cream of Mushroom Soup and World Peace Cookies
And for the other side of the world:
Six Months Ago: Corn Bacon and Parmesan Pasta
1.5 Years Ago: Very Blueberry Scones
2.5 Years Ago: Sticky Sesame Chicken Wings
3.5 Years Ago: Grilled Bacon Salad with Balsamic and Arugula
4.5 Years Ago: Blackberry Gin Fizz
Crusty Baked Cauliflower and Farro
The original recipe has you saute the cauliflower in 2 parts with 3 tablespoons of olive oil each for 5 to 6 minutes to get the florets lightly browned and tender. I got away with using less oil but it never really got tender and I'm fairly convinced that roasting would be more hands-off and get a better flavor, so I'm suggesting this as an alternative below. I'd be hesitant to boil or steam, although it is faster, because the extra liquid wouldn't be welcome here.
1 cup (210 grams) dried farro
3 cups water or broth
Kosher salt
Freshly ground black pepper
Olive oil
2 1/4 to 2 1/2 pound (1 to 1 1/8 kgs) head of cauliflower, cut into small florets
2 tablespoons finely chopped fresh sage leaves
2 tablespoons capers (brine-packed), drained
2 large or 3 regular cloves garlic, minced
1/2 teaspoon finely grated lemon zest
Crushed red pepper flakes, to taste
2 cups (6 ounces or 170 grams) coarsely grated, lightly packed Italian Fontina (Val d'Aosta variety, if you can find it) (buy about 8 ounces with rind)
1/2 cup (125 grams) ricotta cheese
1/2 cup (25 grams) panko (plain Japanese-style breadcrumbs)
1/3 cup (30 grams) finely grated pecorino romano cheese
2 tablespoons finely chopped fresh parsley leaves
Cook farro:
Rinse and drain farro. There are many, many ways to cook farro and any of them work here. You can follow the package directions on any farro you buy for best results.
On the stove: If you plan to cook this on the stove and want to save time, you can presoak the grains overnight in their 3 cups of liquid and they should then cook in only 10 minutes of simmering. Otherwise, simmer the farro in water or broth for about 30 minutes, until quite tender. Drain any excess liquid. Transfer farro to large bowl.
In a rice-cooker: I cook mine on the quick setting and have been very happy with the results. Drain any excess liquid once the farro is tender. Transfer farro to large bowl.
Meanwhile, parcook cauliflower:
In the oven: Heat oven to 425 degrees. Brush a large baking sheet with 2 tablespoons olive oil. Spread florets in one layer, drizzle with 1 more tablespoon olive oil and sprinkle with salt and freshly ground black pepper. Roast for 20 minutes until lightly browned and crisp-tender (they will finish baking with the farro). Reduce heat to 400 degrees.
One the stove: Heat 2 tablespoons olive oil in a large saute pan over medium-high heat. Add half the cauliflower and cook, tossing occasionally, until lightly browned and tender, about 6 to 7 minutes. Add to bowl with farro. Repeat with more olive oil and second half of cauliflower, then add to bowl. Heat oven to 400 degrees.
Assemble casserole: Add the sage, capers, garlic, lemon zest, red pepper flakes, 1 teaspoon salt and 1/2 teaspoon black pepper to cauliflower and farro and stir to combine. Stir in fontina. Transfer half of the mixture to an oiled 10-inch ovenproof frying pan or equivalent baking dish. Dollop rounded tablespoons of ricotta all over. Sprinkle remaining cauliflower and farro over the ricotta, leaving the pockets of it undisturbed.
In a small dish, combine panko with pecorino, parlsey and 1 tablespoon olive oil until evenly mixed. Sprinkle over cauliflower and farro.
Bake casserole: For 20 minutes, until browned and crusty on top. Dig in.
Do ahead: Farro can be cooked up to 3 days in advance, kept in an airtight container in fridge. Cauliflower can be cooked 2 days in advance. Casserole can be assembled and baked a day later, easily, although the crumbs might lose their crisp from absorbing the moisture below if not added right before baking. Casserole keeps for several days in fridge and longer in freezer.
Source: http://feedproxy.google.com/~r/smittenkitchen/~3/PPeCIOVaoZ0/