posted by Jaden
If you're looking for quick and easy weeknight dinners? Stir fry dinners are the way to go. There's a reason why stir fries are some of the most popular recipes. You get your protein, your veggies, your delicious sauce, all in one skillet and less than 20 minutes later you're serving up a hearty meal! Read on for some awesome Easy Stir Fry Recipes, from succulent side dishes to yummy mains…
Why Is Stir Frying Good?
Stir frying is a Chinese cooking technique in which ingredients are fried in a small amount of very hot oil while being stirred in a wok. The technique originated in China and in recent centuries has spread into other parts of Asia and the West.
Stir Frying has many benefits, here are a few:
Nutrition retention
Because foods are not exposed to overheating during stir-frying, they retain most of their heat-sensitive nutrients. Although the technique may cause more fumes and require a better ventilation system in the kitchen, it is a healthier substitute for deep frying.
Time management
There's always a bit of chopping involved, but usually a stir fry is a quick meal to whip up. The time required to stir-fry the food is usually around 15 minutes.
Food looks better
Stir-frying burns the food for a very short period of time which takes most of the vegetables to the point of looking even more colorful. So, not only does stir-frying retain most of the nutrition in the food, it also makes your food visually appealing.
Economical
Stir-frying focuses more on the use of vegetables in the dishes instead of meat, so it can help you cook healthy and delicious foods that won't cost much.
Easy Stir Fry – Shrimp Recipes
Chinese Shrimp Stir Fry
This 15 minute Chinese Shrimp Stir Fry recipe will teach you authentic stir-fry method. It's quick easy and delicious! Succulent shrimp, slathered in a delicious soy, ginger and garlic sauce. This Asian shrimp stir fry recipe is one of my mom's, and it's one of the very first recipes she taught me how to cook.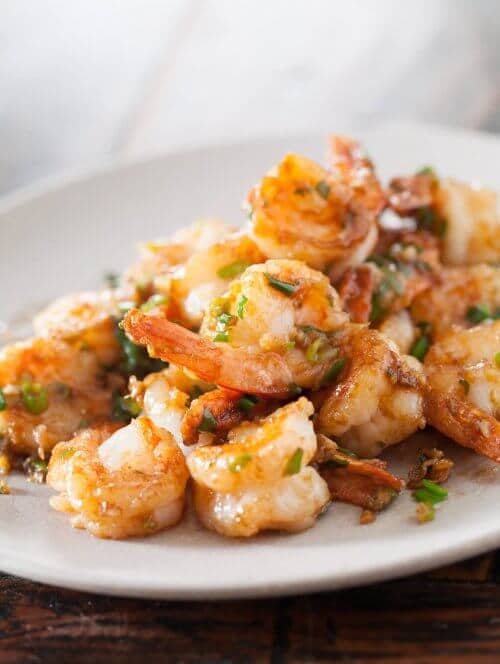 Shrimp Teriyaki Stir Fry Recipe
This Shrimp Teriyaki Stir Fry is quick and delicious! Shrimp cooked in teriyaki sauce is tender and has that wonderful mixture of salty and sweet flavors. This makes the perfect Asian dinner in minutes.
Fresh Pear and Shrimp Stir Fry Recipe
This light and a flavorful recipe comes from the lovely people at T.C. Choy's Asian Bistro. Pear…pairs so well with shrimp and veggies – you have to try this!
Stir Fried Shrimp, Eggs and Peas
If you love shrimp fried rice, you are going to love this easy stir fry recipe! Taste wise it's all killer no filler!
Jade Shrimp with Fragrant Vegetables
This easy stir fry recipe marries up succulent shrimp with a whole host of green veggies, all splashed with a coating of garlic – so good!
Easy Stir Fry Recipes – Beef
Beef And Broccoli Stir Fry
This authentic Beef and Broccoli Stir Fry is light, intensely flavorful without the goopy brown sauce! Easy to make and delicious.
Korean Zucchini Noodles Recipe
This Zucchini Noodle recipe is very simple and cooks in 10 minutes. Slivers of zucchini noodles – or zoodles – are mixed with seasoned beef slices and other veggies, for an easy and delicious meal!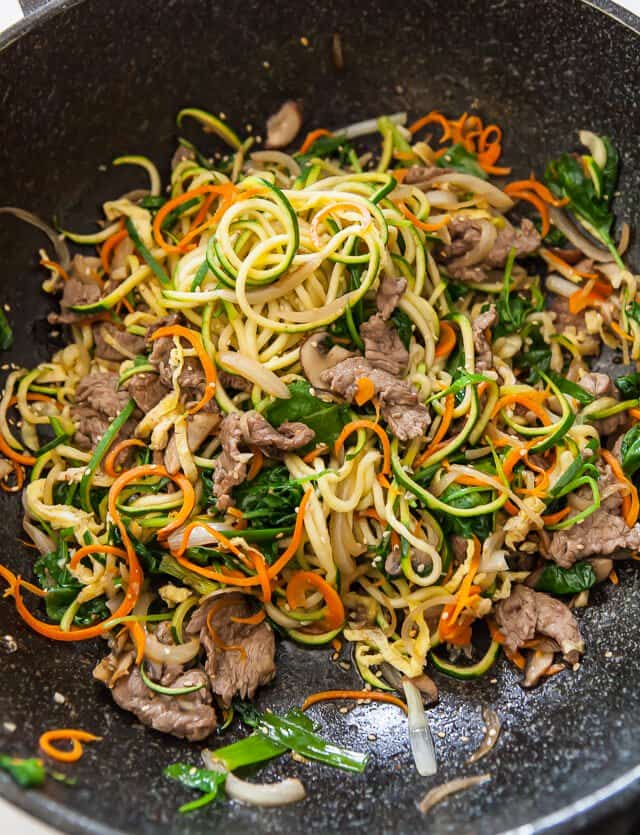 Stir Fried Beef and Nectarines Recipe
Fresh fruits symbolize life and new beginnings. This would make a good dish to serve as part of a Chinese New Year meal. The succulent beef pairs up so well with the sweet nectarines, to deliver a unique blend of flavors. If you're looking for a different (but still delicious) stir fry, give this a try!
Chinese Broccoli Beef Noodle Stir Fry
For this Easy Stir Fry recipe, you can use ANY type of noodles. Really, spaghetti noodles are fantastic in this dish. I happened to have Japanese style egg-noodles, so that's what I used! It's ALL delish!
Easy Stir Fry Recipe – Chicken
Chicken Fried Rice
Authentic Chinese fried rice is so easy to make….but so easy to get wrong. Oftentimes, those attempting fried rice without learning just a couple simple tricks will end up with a goopy, glue-y, heavy mess. I'll show you the techniques for a restaurant-worthy, Chinese mom approved, Chicken Fried Rice!
Healthy General Tso Chicken
This Healthy General Tso Chicken doesn't deep fry the chicken but still gives you a delicious dish, with great textures and awesome flavor, plus it's so quick and easy to make!
Green Beans with Chinese Preserved Radish Stir Fry
This Easy Stir Fry recipe calls for Chinese Salted Radish or also called Chinese Preserved Radish, is a turnip that has been salted heavily to preserve like a pickle or sauerkraut. The radish adds a distinctive crunch, umami – a salty/savory flavor to any dish. You have to try this!
Baby Bok Choy with Ground Chicken Stir Fry
This is one of our "house recipes" – something I make quite often and practically with my eyes closed. There's no measurement, no weighing, just what you'd call a dump-n-stir, except this is more like a throw-in-n-stir-fry.
Easy Stir Fry Recipes – Pork
Braised Tofu with Ground Pork
Braised Tofu with minced pork is so easy to cook, and most of all delicious! It's warming and hearty, blocks of crispy edged tofu floating in a delicious chicken broth, sprinkled with succulent morsels of ground pork – you have to try it!
Korean Bibimbap Recipe (Paleo and Low-Carb)
Korean Bibimbap (BEE-beem-bop) is a classic – and delicious – dish of steamed rice served with ground meat (pork, beef, turkey or chicken), colorful vegetables, and a fried egg on top. Made in only 30 mins, it's savory, filling, hearty and served in a big bowl.
Easy Stir Fry Recipes – Vegetables
Green Bean and Shiitake Mushroom Stir Fry
This delicious Green Bean and Mushroom Stir-fry is ready in minutes and one pan! With tender-crisp garlic and ginger vegetables smothered in oyster sauce, it's a wonderful side dish perfect with rice!
Chinese Greens (Yu Choy) Stir Fry
These delicious Chinese Greens cook simply and quickly. This way the delicate greens are not swimming in salty or sweet sauce, where you can't taste the vegetable at all. When the Yu Choy is fresh, you don't even need salt or sugar – the chicken broth will add enough saltiness. So good!
Chinese Broccoli Recipe with Garlicky Ginger Miso
This Chinese Broccoli recipe is a delicious way to get more greens into your life! Coated in a delicious garlic and ginger miso, this delicious dish can be a side or added to stir fry. Plus it's Vegan, Paleo, Whole30, Keto, and low carb.
Bok Choy Recipe
Crisp, fresh, and loaded with flavor, this Bok Choy Recipe is guaranteed to be your new favorite side dish! Glistening with an addictive garlic and ginger coating, it's Ready in just 10 minutes!
Chinese Stir Fried Pea Shoots
Pea shoots are delicate, should just be lightly cooked and barely seasoned. The shoots are sweet, tender and light!
Pad Thai Zoodles Recipe
Crispy crunchy tofu, with silky eggs and lovely Zoodles! This is one hearty and delicious stir fry!
Chinese Stir Fried Sticky Rice Cakes (Nian Gao)
Nian Gao is normally eaten for Chinese New Year, as it signifies good fortune for the coming year. "Nian" means year and "gao" means high — translating loosely to "every year, may you reach higher and higher."
Nian Gao can also mean sticky rice cakes that are fried in egg (savory) or fried with sugar (sweet). The Shanghainese and Korean version (TteokGuk photo) of nian gao is this recipe, where they take the glutinous rice cakes, cut them into ovals 2 inches long, 1 inch wide, and stir fry them like noodles. And they are delicious!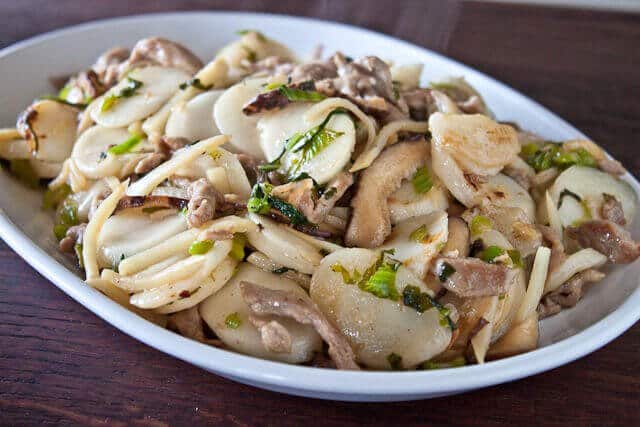 Top Tips For Easy Stir Fry Recipes
Prepare all the ingredients before turning on the heat. Once the heat is on, things move quickly. Have the ingredients sliced and your liquids measured before you start, and keep them close by.
Slice meat and vegetables for maximum surface area. The goal is to expose as much surface area as possible: vegetables are often sliced thinly on a sharp diagonal; aromatics like garlic and ginger are usually finely chopped; and meat is always sliced against the grain to increase tenderness.
Use a wok or cast-iron pan. If you have a wok, always use it. A wok has a large surface area and retains heat very well, making it ideal for stir-fries. If you don't have a wok, opt for a cast iron pan. As you add more ingredients, you want the pan to remain very hot and cast iron pans will retain heat better than other materials.
The aromatics should be cooked low and slow. There is one exception to cooking at a high heat, and that's when you're using finely chopped aromatics such as ginger, garlic, lemongrass or green onions. They should be cooked first, at a lower heat. If added to a wok or pan on high heat, they will burn quickly and taint the flavour of the stir-fry. As these items are used to flavour the oil, heat the oil over medium heat and cook the aromatics gently.
Add ingredients according to cook time. Make a plan and decide what order to add the ingredients into the pan, based on their cook time. (Some items will take as little as 30 seconds to cook.) Don't be afraid to cook the meat first and take it out of the pan, to be added again at the end. This will allow you to cook the vegetables without overcooking the meat.
But the stir fry needs to be cooked fast and hot. Your heat should be set to high—but it still needs to be controlled (you don't want it smoking). Heat your wok or pan before adding the oil, as this step will help prevent sticking. Once the oil is added, roll it around the pan to coat it well. Select oil with a high smoke point. (Peanut oil works very well for stir-fries.)
Stir your ingredients often. Your ingredients should cook fast, but to ensure that everything is cooked evenly, stir constantly (hence the name). It's important to move the food in and out of the centre of the pan quickly.
Have you tried an of these Easy Stir Fry Recipes? Feel free to leave a star rating and I'd love to hear from you in the comments below!

Source: https://steamykitchen.com/49377-easy-stir-fry-recipes.html