In this Pork Belly Lettuce Cups Recipe, you'll learn:
How to cook superbly tender, succulent pork belly
Essential step to cleaning pork belly before cooking
How to finish pork belly to get crisp, caramelized edges
So many Asian restaurants feature pork belly on their menus, especially Pork Belly Buns. Here's a version that I actually enjoy even more, Pork Belly Buns in Lettuce Cups. Luscious, tender pieces of pork belly with deep caramelized edges sit on top of a bed of crunchy and tangy vegetables. All wrapped in cool, crisp, iceberg lettuce cups.
Here's our fool-proof method for cooking pork belly.
How to Buy Pork Belly
Pork belly, salted, cured and sliced is what you know as bacon. When buying pork belly, you want the belly whole, not sliced. Look for pieces that have lots of meat. The piece above is alright, I actually prefer less fat.
The skin should be firm and not sticky, the fat should be pure white. Smell it – it shouldn't smell like much. If you get a sharp, strong, ammonia smell, don't buy it.
I like getting my pork belly at large Asian markets – because they sell A LOT of it and the inventory moves fast. I've purchased at regular supermarkets, but I always have the butcher open the package so that I can smell the meat.
Cleaning Pork Belly
Before cooking pork belly, it's important to clean it. That's because pork belly includes the skin along with the meat. I like to give it a good scrubbing, especially on the skin. You can clean the pork belly with just a handful of kosher salt (larger grains than regular table salt) or sugar.
Take a handful of salt (maybe like 2 tablespoons), and rub the pork belly skin, just like you would exfoliate your own skin. The rubbing action will clean the meat, loosen any bits of dirt, hairs, blood, tiny bone fragments, etc. Rinse and pat dry.
By the way, I also exfoliate whole chickens too! Take a look at before and after photos.
Pork Belly Braising Sauce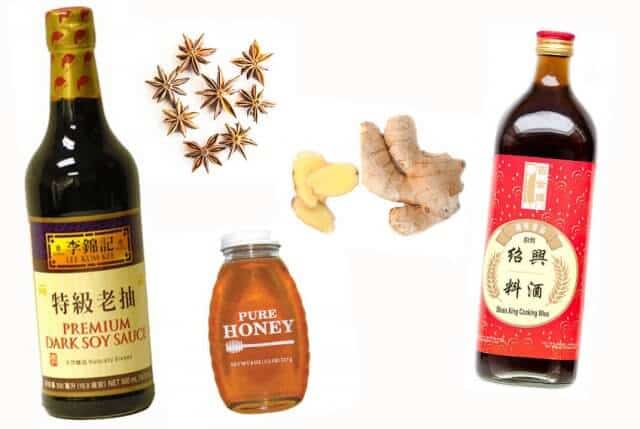 The sauce is simple: dark soy sauce, star anise, ginger slices, Chinese cooking wine and honey.
Dark soy sauce is different than regular soy sauce. It is less salty, thicker and has added sugar. Dark soy sauce is used in many Chinese braises, especially for pork belly! Lee Kum Kee is my favorite brand, but Koon Chun is good too. If you can't find dark soy sauce, substitute with the following: 1/2 cup soy sauce + 1/2 cup brown sugar or molasses + 1/4 cup water. Simmer for a few minutes until reduced by half. It should be thick and glossy. For gluten-free diets, use tamari instead of soy sauce to make the dark soy.
Chinese rice wine – is cooking wine made from rice. Substitute with dry sherry, though I've also been known to use cognac, too.
Ginger – sliced thinly (no need to peel)
Star Anise – whole star anise, easily found in many supermarkets. You can substitute with 1/2 teaspoon ground star anise or 1/2 teaspoon Chinese five spice powder.
Sweetener – use honey, dark brown sugar, or maltose, which is what is traditionally used in Chinese recipes for roast Peking duck and even brewing beer. Maltose is less sweet than sugar or honey. May be hard to find outside of Asian supermarkets.
Choose One Cooking Method
Sous Vide Pork Belly
My very favorite method of cooking pork belly is in the sous vide. Put the belly and braising liquid into a freezer or vacuum sealed bag and let it cook at 176F/80C for 6-8 hours.
Our favorite sous vide machine depends on your budget. What's sitting on my counter is a Oliso Sous Vide – LOVE IT – but very expensive. We sous vide at least 2-3x a week, and it's an essential appliance for my kitchen. For a cheaper sous vide, try the Anova (Amazon has it the cheapest / Here's our Anova review). ChefSteps is coming out with their version – called Joule. It's sold out (that was fast!) but get on the list for the next batch. We just got our beta unit today to test. I'll write a full review in the next couple of weeks.
To sous vide: add all of the ingredients in the recipe to a bag. Set temperature for 176F/80C and cook for 6-8 hours.
Easy Oven Pork Belly
The next best method to cook pork belly is in the oven. Pick a pot with lid that's not too big. The pork belly should fit nice and snug in the pot. You may want to cut the pork belly in pieces so that they fit better. If you use a pot that's way too big in diameter, the liquid will not reach up the sides of the pork belly, and will also evaporate too fast. Make a snug tent with tin foil and use hands to mold tin foil over the pork belly and liquid. This will help keep the pork belly moist by keeping the liquid trapped near the meat.
Add everything to the pot, cover with lid and roast for 4-6 hours.
After Cooking, Reduce Sauce
With either method of cooking, you'll pour the sauce into a saucepan and let it reduce to half, so that the sauce is thick and syrupy.
Dice Pork Belly & Fry
Dice the pork belly.
Heat a wok or saute pan. Drizzle a little cooking oil and add in the pork belly. Spread the pieces in one layer so that each piece is touching the pan. Leave it alone for a minute, then give it a good stir/flip. Repeat until all sides of the pork belly is browned and edges crisp.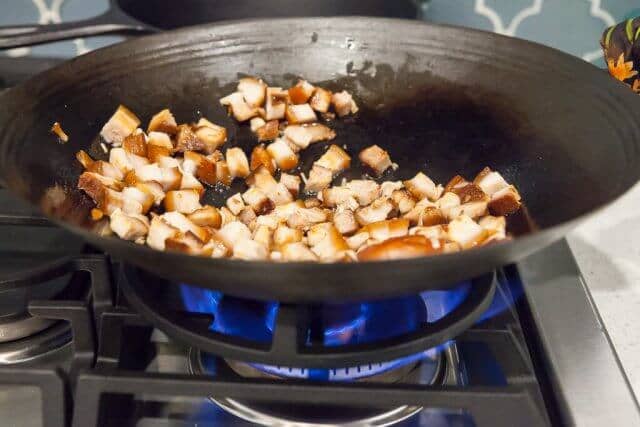 Pour in the reduced sauce and give it a quick stir. Cook just for a few seconds until all pieces are coated.
Quick Asian Slaw
I love using bell peppers and carrots with this recipe. Julienne the bell peppers and cut the carrots into matchstick. You can use pre-shredded carrots, julienne by hand or use this inexpensive amazing julienne tool.
The Oxo brand julienne tool is less than $ 10 and I highly recommend it. The julienne slices come out straight, as you can see on the left.
The other tool is a Kuhn Rikon Julienne Peeler, it's lighter and produces slightly thinner julienne that curls a bit (on right).
The vegetables are tossed with a bit of sweetened rice vinegar. There are 2 kinds of rice vinegar – regular and seasoned (or sweetened). If you can only find regular, which has no sugar, then add in a generous pinch of salt and 1 teaspoon of sugar. Alternatively, you can also use cider vinegar with sugar. The sugar will tame the sourness of the vinegar.
Serve with some fresh cilantro, iceberg lettuce cups.
Yum
Pork Belly Lettuce Cups Recipe

Ingredients:

FOR THE PORK BELLY

1 pound pork belly

1/2 cup dark soy sauce

2 tablespoons Chinese rice wine (or dry sherry)

1/2 cup water

5 whole star anise

8 pieces thinly sliced ginger

2 tablespoons honey

1 tablespoon cooking oil

VEGETABLES

1 head iceberg or Boston bibb lettuce, torn into cups

1 bell pepper, julienned

1 carrot, julienned

1 cucumber, julienned

2 tablespoons seasoned (sweetened) rice vinegar

fresh cilantro

Directions:

1. Heat oven to 200F.

2. Scrub the skin of the pork belly with a handful of salt or sugar. Rinse and pat dry.

3. In a pot, stir together the dark soy sauce, wine, water star anise, ginger and honey. Add in the pork belly. Create a snug tent with the tin foil – use your hands to mold the tin foil over the pork belly and liquid. Cover pot with lid.

NOTE: If you are cooking sous vide, omit the water, and just add all ingredients to sous vide bag. Sous vide 176F/80C for 6-8 hours.

4. Roast at 200F for 4-6 hours. When done, lift out pork belly and dice. From the sauce, discard the ginger and star anise. Simmer the sauce for a few minutes, until reduced and thickened.

5. To make the slaw, combine bell peppers, carrots and cucumber with the seasoned vinegar. Taste, and adjust with more vinegar if needed. Slaw should be slightly sweet and tangy.

6. Heat a wok or saute pan over high heat. When hot, swirl in the cooking oil. Add the pork belly dice in a single layer and let cook for 1 minute, stir and repeat for all sides of the pork belly. Add in the reduced sauce and stir well, let sauce reduce even more (about 1 minute). Serve with lettuce cups and top with a sprig of cilantro.

Source: http://steamykitchen.com/42487-pork-belly-lettuce-cups-recipe.html