posted by Jaden on November 1, 2017
Sponsor: We've partnered with Argo® Corn Starch to bring you a Fall-inspired recipe: Sweet Potatoes with Bacon & Maple Syrup Glaze.
This dish is a twist on Argo's original Orange Pecan Sweet Potatoes, and is loved by many because of its party of flavors and textures: tender, sweet potatoes, salty-smoky bacon, and a lovely maple syrup glaze that pulls it all together. It's the perfect new addition to your Thanksgiving dinner menu!
How to make a glaze
The secret ingredient that gives this sweet potato recipe its irresistible glaze is Argo Corn Starch. We used it to thicken the glaze giving it a perfect smooth consistency without altering the delicious maple flavor.
The reason corn starch is a better thickener than flour is because the starch is made from corn (so it's naturally gluten-free) and has twice the thickening power as flour (so you can use less of it).
You can use liquid and any sugar as the base for the glaze, then whisk in the corn starch. The only rule is to whisk and combine before turning on the heat!
That's because corn starch will begin to gelatinize almost immediately when in presence of hot or boiling liquids.
In our recipe, we're using orange juice and maple syrup as the base for the glaze, and then whisking in corn starch.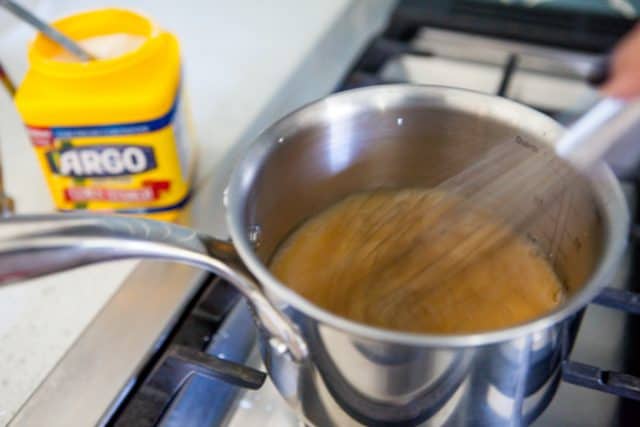 Turn on the heat and bring to a boil.
Immediately turn the heat to low, and cook for 2 minutes until thickened.
To make a richer glaze, we'll add in butter and vanilla extract.
The glaze is thick and glossy. The ingredients create a tangy, sweet glaze that's perfect for sweet potatoes.
Pour it all over the previously cooked sweet potato, bacon and pecan mixture.
Bake in the oven for 20 minutes until the glaze is bubbly.
Print
Course: Side Dish
Cuisine: American
Servings: 8 people
Calories: 468 kcal
Author: Jaden
As needed cooking spray

3

pounds

sweet potatoes

(4 large) peeled, cut into 3/4″ chunks

1/2

pound

bacon

diced

1

cup

maple syrup

2

tablespoons

Argo® Corn Starch

1

cup

orange juice

2

tablespoons

butter

1

teaspoon

pure vanilla extract

1/2

cup

chopped pecans
Preheat oven to 375F. Arrange the sweet potatoes and bacon out in a single layer on a parchment or foil-lined baking sheet. Roast for 20 minutes, or until sweet potatoes are just fork tender.

In the meantime, make the glaze. Combine maple syrup, orange juice and corn starch in a small saucepan. Whisk to combine, before turning on the heat. Cook over medium-high heat, stirring constantly, until mixture boils. Reduce heat and simmer 2 minutes. Remove from heat; add butter and vanilla. Set aside until sweet potatoes are ready.

When sweet potatoes are ready, remove from oven. Reduce oven temperature to 350°F. Spray 3-quart (13 X 9-inch) baking dish or oven-safe pan with cooking spray. Add in cooked sweet potatoes and bacon. Scatter in the chopped pecans.

If needed, reheat the glaze until it is easy to pour. Pour glaze all over the sweet potatoes.

Bake for 20 minutes until edges are browned and bubbly.
Nutrition Facts
Sweet Potatoes with Bacon & Maple Syrup Glaze
Amount Per Serving
Calories 468 Calories from Fat 171
% Daily Value*
Total Fat 19g 29%
Saturated Fat 6g 30%
Cholesterol 26mg 9%
Sodium 310mg 13%
Potassium 809mg 23%
Total Carbohydrates 67g 22%
Dietary Fiber 5g 20%
Sugars 34g
Protein 7g 14%
Vitamin A 485.8%
Vitamin C 23.7%
Calcium 10.5%
Iron 8%
* Percent Daily Values are based on a 2000 calorie diet.

Source: https://steamykitchen.com/45332-sweet-potatoes-with-bacon-maple-syrup-glaze.html