posted by Jaden on October 4, 2017
Authentic Pho recipe from award-winning cookbook author and foremost expert in Vietnamese cuisine, Andrea Nguyen. You'll learn:
Best beef bones to use for Pho
Secret to clear, clean broth (no scum!)
Tip for a deeper, more savory flavor in this Pho recipe.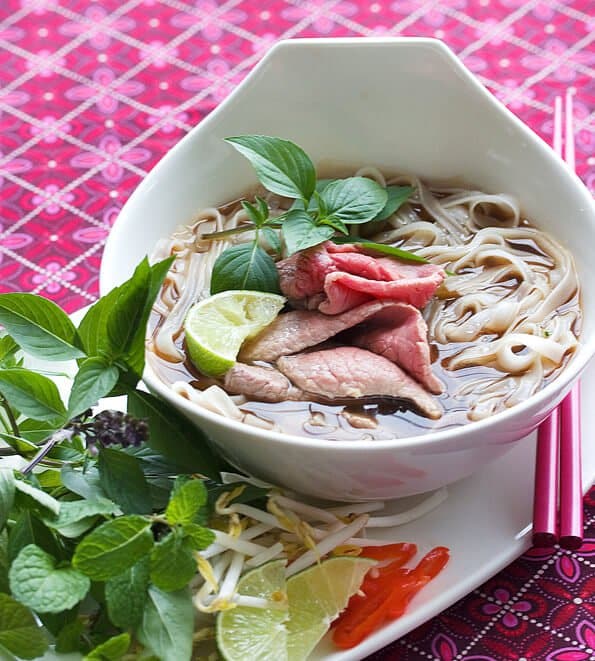 What the Pho?!
As an Asian cooking expert, it has taken years of kitchen experiments, eating out and scouring for good recipes for the perfect home-cooked pho recipe. The best recipe that I've found for Pho is from:
Andrea Nguyen's Into the Vietnamese Kitchen
, which is one of the most comprehensive books on the cuisine of Vietnam. The book also won nominations for a James Beard Foundation award and two International Association of Culinary Professionals (IACP). Definitely a must-have book for Asian food lovers.
So, let's get right to the Vietnamese Beef Pho Recipe!
The dish is pronounced "fuh" and not "foo" or "foe" or "puh"
Spices for Pho Recipe
It's best if you can get each spice separately, but I do find that the spice packets are pretty convenient. They cost less than $ 2 and even come with a mesh bag to put all the spices in. Spices include cinnamon sticks, cloves, coriander pods, star anise and cardamom.
Pho seasoning made into a paste can also come in a jar or can, so that you can make "instant pho." I've never liked the pho paste, it tastes flat, usually full of MSG and too salty. It's like using a bullion cube.
Best Bones for Pho
Knuckle bones are the best to make the stock for pho recipe. The knobby knuckle bones, about the size of your fist, is full of gelatin – which gives body and richness to your broth. The knuckle bones make the biggest difference in your broth! You can find knuckle bones at Asian markets, but at regular supermarkets – you might have to ask your butcher.
Leg bones is also essential for the pho broth. Take a look at the photo below. The bone that's at 12-o'clock position is a leg bone that contains marrow. The marrow is good, but it's extremely fatty. If I have a lot of marrow bones, I'll scoop out the marrow with a small spoon or knife and discard after the par-boiling (see below). Having too much marrow will give you a greasy film on your pho broth.
At Asian markets, bones for Vietnamese Pho are often sold in bags, already cut into 3″ sections, ready for broth making. Look in the freezer section if they don't have the bones fresh. Nowhere near an Asian market? At a standard grocery store, ask your butcher for knuckle and leg bones with marrow. The leg bones is best cut into about 3-inch sections.
Can't find leg or knuckle bones?
But let's say that you can't find leg/knuckle bones. That's okay! Here's what I use:
3 pounds of whatever beef bones my market has
1 pound oxtail bones
1 pound boneless beef chuck, rump, brisket or rib roast
Together, this combination will provide a rich, flavorful broth for Pho.
You must par-boil bones first
Bones are parboiled first for a good 10 minutes in rapidly boiling water – this gets rid of the yucky impurities like blood particles and extra fat.
You'll see pink or gray foam float up to the surface as you boil. After 10 minutes, dump out all of the water, rinse out your pot, rinse the bones, and refill with clean, cool water. I know it's an extra step, but this will give you the pure, clean-tasting broth.
Bone scum: this is what happens when you boil bones. That nasty stuff will end up in your hard-worked pho broth if you don't dump it out!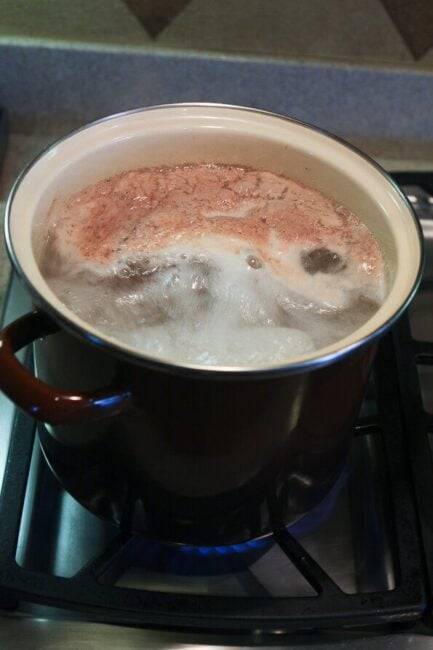 If you have a lot of marrow bones, use a spoon or knife to scoop out and discard some of the marrow. Do this after the parboil, while the bones are still hot. The marrow can only be scooped out when the bones are hot.
If you have a lot of marrow bones, and don't scoop out the marrow, it's ok. The broth will be fatty, but you can also de-fat the broth by either of these methods:
Use a scum strainer – an ultra fine mesh strainer that's specifically designed for….uh….straining scum and grease. Like this one on Amazon. See below for more information on de-scumming and de-greasing pho broth.
Refrigerate the broth for a few hours. The fat will solidify. You can just use a large spoon to crack and lift out the fat (marrow).
But some marrow is beneficial….don't get rid of it all!
Charring or roasting the onions and ginger gives you a wonderfully mellow and naturally sweet flavor. I used to char over an open flame on my stovetop with a pair of tongs, but that got pretty tiring. Plus, metal tongs + long time over flame = very hothothot hands. So now, I just raise my oven rack to the highest position and turn my broiler on. See how golden the ginger gets?
How to easily get rid of the foam & grease
So here is my broth boilin' away with the mesh bag of spices, charred ginger, charred onions and beef bones. You can see floating bits of fat and the foam.
Fat & marrow bits = good eats. Try to keep that in the broth!
But gotta get rid of the foam or scum! I use a very, very fine mesh strainer ($ 10) designed just for scum.  Straining the scum and foam keeps your broth pure and clean. The lower the simmer, the less scum you have.
A note on broth simmering time – I simmer the broth for 3 hours. According to both Andrea Nguyen and Corinne Trang (author of Authentic Vietnamese Cooking and former editor and director of Saveur's test kitchen) – all of the flavors in the bone have been extracted after 3 hours.
Thinly Sliced Meat for Pho Recipe
You can use a thinly sliced flank steak, london broil, sirloin, eye of round or tri-tip. Instead of beef slices, you could use beef balls (Bo Vien) found in the refrigerator or  freezer section of your Asian market.
The secret to slicing meat for Pho, is to cut ACROSS the grain. You want your beef slices as thin as possible, and I always throw the whole chunk of meat in the freezer for 15 minutes to make it easier to slice thinly.
Pho Noodles
Vietnamese Beef Noodle Soup typically uses rice noodles. You can buy them dried or fresh. I love the slippery softness of fresh noodles (look in the refrigerator or freezer section.) Most restaurants will use dried, flat rice noodles. Look for ones that are medium thickness and flat like these.
Pho Condiments
Pho-tastic condiments! On the tables of every Pho restaurant, you'll see these two condiments, Sriracha hot chili sauc) and Hoisin Sauce. You can squirt and slather as much of these two condiments as you want…but I'm a purist.If I'm going to spend a couple of hours carefully crafting a rich, flavor-packed, clean soup – I better taste every drop.
Though, sometimes, I'll squirt a bit of each sauce in a little dish and dip my meat in the sauce as I take a bite.
Pho Vegetables and Herbs
Fresh mint, cilantro, basil, bean sprouts, limees, sliced chili peppers are just some of my favorite accompaniments. Set a plate at the table and your guests can pick and choose what they like. Here's a great Pho-tograph of fresh vegetables and herbs.
More Pho Recipes
Crock Pot/Slow Cooker Pho Recipe

Don't have time to man a stove? Use your crock pot or slow cooker!
Vietnamese Chicken Pho (Pho Ga) Recipe
Vietnamese Chicken Noodle Soup (Pho Ga)
Pressure Cooker Pho Recipe – Paleo Friendly
 Paleo-Friendly Pho – made in pressure cooker
Print
Recipe reprinted with permission from Into the Vietnamese Kitchen Cookbook by Andrea Nguyen.  
Servings: 8 people
Calories: 292 kcal
Author: Jaden
For the Pho broth
2

yellow onions

unpeeled, sliced in half

4

inch

piece fresh ginger

unpeeled, sliced in half

5

pounds

beef leg or knuckle bones

6

quarts

water

5

star anise

6

whole cloves

3

inch

cinnamon stick

1

pound

boneless beef chuck, rump brisket or cross-rib roast, well trimmed, and cut into large chunks

1/4

cup

fish sauce

1

tablespoon

sugar

or 1-inch chunk of yellow rock sugar
For the Pho Bowls
2

pounds

small flat rice noodles

dried or fresh

Cooked beef from the broth

1/2

pound

eye of round

sirloin, London broil, flank steak or tri-tip steak, thinly sliced across the grain

1

yellow onion

sliced paper-thin, soaked in cold water to cover for 30 minutes and drained

2

scallions

green parts only, thinly sliced

1/3

cup

chopped fresh cilantro

leafy tops only
Garnish for Pho Recipe
3

cups

fresh bean sprouts

about 1/2 pound

Mint

Thai basil

2

Thai or serrano chiles

thinly sliced

2

limes

cut into wedges
Make the Pho Broth
Set baking rack 8 inches below heating element. Turn oven to low broil. Place the onion and ginger halves, cut side up, on a baking sheet. Brush the halves with a little bit of oil. Broil until the onion and ginger slightly charred, about 10 minutes, turning half-way. Remove from heat and cool.

Parboil the beef bones: Fill a large stockpot (about 12 quart capacity) with water and bring to rapid boil. Carefully lower in the bones. Boil vigorously for 3 minutes to release the impurities. Dump bones and water into a clean sink, and rinse the bones with water to wash off any clinging residue. Quickly scrub pot clean and fill with about 6 quarts of clean water. Return bones to pot. Add the charred onion, ginger, pho spices, beef, fish sauce, and sugar to pot.

Bring water to boil over high heat, and lower heat to gentle simmer. Simmer, uncovered, for 1 1/2 hours.

While simmering, use a ladle or fine-mesh strainer to spoon off any scum that rises on top.

At this point, the boneless meat should be slightly chewy, but not tough. Use tongs to transfer the meat to a bowl. Cover with plastic wrap and refrigerate. Meanwhile, maintain the broth at a steady simmer for 1 1/2 hours longer.

Strain the broth through a fine-mesh sieve (or a coarse-mesh sieve lined with cheesecloth) positioned over a pot. Discard the remaining solids. Use ladle or fine meshed skimmer to skim as much fat as possible from the top of the broth. Taste and adjust the flavor with salt, fish sauce and sugar. There should be about 4 quarts (16 cups) of broth.
Assemble the bowls
If using dried rice noodles, cover them with hot tap water and let them soak for 15 minutes, or until they are pliable and opaque. Drain in a colander. If using fresh rice noodles, untangle them, place in a colander, and rinse briefly under cold running water.

Cut the cooked beef across the grain into thin slices. Freeze the raw beef for 15 minutes, then slice it across the grain into very thin slices. Set all beef aside. Ready the raw onion, scallions, cilantro leaves for adding to the bowls. Arrange the garnishes on a plate and put on the table.

To ensure good timing, bring the broth to a simmer over medium heat as you are assembling the bowls.

At the same time, fill a separate large pot with water and boil. For each bowl, place a portion of the noodles on a strainer (or mesh sieve) and dunk the noodles in the boiling water for 10 seconds. Immediately pull the strainer from the water, letting the water drain back into the pot. Empty the noodles into a bowl.

Top each bowl of noodles with cooked and raw beef, arranging the slices flat. Add a bit of raw onion, scallions, cilantro leaves to each bowl.

The pho broth needs to be boiling hot, to cook the raw beef slices. Raise the heat of the broth to a boil. Do a final taste and make any last minute adjustments with fish sauce and sugar. Ladle about 2 cups of broth into each bowl. Serve immediately with plate of garnishes.
Nutrition Facts
Vietnamese Pho Recipe (Beef Pho)
Amount Per Serving
Calories 292 Calories from Fat 9
% Daily Value*
Total Fat 1g 2%
Cholesterol 17mg 6%
Sodium 1131mg 47%
Potassium 722mg 21%
Total Carbohydrates 54g 18%
Dietary Fiber 2g 8%
Sugars 4g
Protein 13g 26%
Vitamin A 2.1%
Vitamin C 15.1%
Calcium 3.5%
Iron 7.9%
* Percent Daily Values are based on a 2000 calorie diet.

Source: https://steamykitchen.com/271-vietnamese-pho-recipe.html