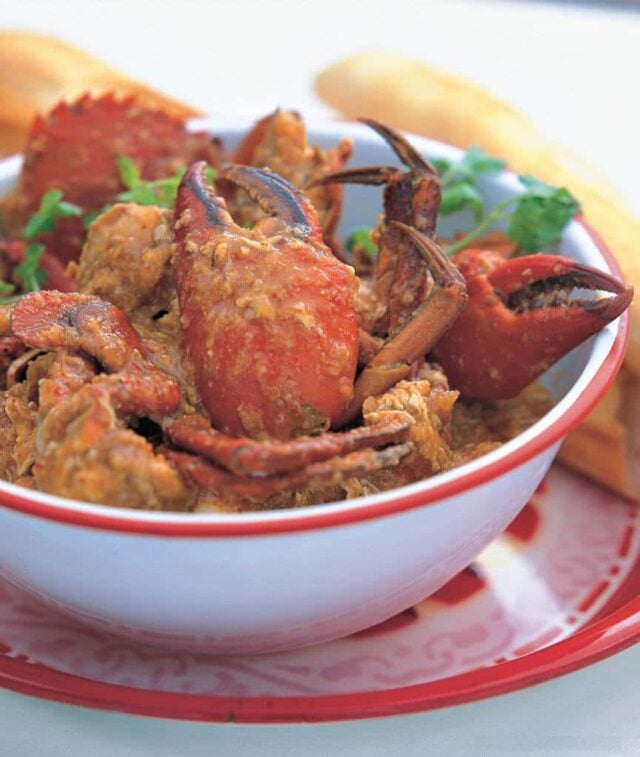 What you'll learn:
Singapore Chili Crab is one of the most popular Asian crab dishes. Simmer crab in a thick, sweet, savory and spicy sauce.
Simple authentic recipe, with a homemade Chili-Ginger Sauce that heightens the flavor
Substitute jumbo-sized shrimp for the crab, if desired
Recipe fromSoutheast Asia's Best Recipes Cookbook by Wendy Hutton
This famous Singapore Chili Crab has been named a "national dish" of Singapore, and named #35 on the list of CNN's list of "World's 50 Best Foods."
Fresh crab is simmered in a base of sweet chili sauce, fresh chilies, ginger, garlic and tomato sauce — it can be made as spicy as you wish! Another signature element of this dish is the delicate ribbons of egg to thicken and add body to the sauce.
This is a messy dish, to be eaten with a stack of napkins and crusty French bread or steamed Chinese buns to mop up all of the sauce.
The recipe is from Southeast Asia's Best Recipes Cookbook by Wendy Hutton, featuring the most popular and best-known recipes from Thailand, Vietnam, Malaysia, Indonesia, Cambodia and all across the region.
Hutton has spent more than four decades traveling and and eating her way through Asia, collecting the best recipes from simple country homes to elegant restaurant kitchens. In her signature, expert prose, Hutton explores the glorious splendor of Southeast Asia's rich and varied cuisine, from Singapore's fascinating cosmopolitan offerings to Thailand's sinfully spicy dishes to Vietnam's refreshingly healthful recipes. Hutton is based in Sabah, Malaysian Borneo.
Each of the authentic Southeast Asian recipes in this book is accompanied by a luscious color photograph shot by the award-winning photographer, Masano Kawana, who won a James Beard Award for Best Cookbook Photography for his Shunju: New Japanese Cuisine Cookbook.
What is Hot Bean Paste?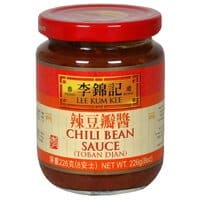 Chinese Hot Bean Paste or Chili Bean Sauce is made from fresh chilies and fermented broad (fava) beans and soy beans.
This Sichuan style sauce adds a spicy, salty, umami-rich flavor to any dish. A spoonful of the sauce into any Chinese noodle dish will spice it up! We also use a spoonful in Mapo Tofu as well.
Other names:
Hot Bean Paste
Broad Bean Paste
Chili Soy Bean Paste
Toban Djan
Dou Ban Jiang
辣豆瓣酱
You can find this Hot Bean Sauce in most Asian grocery stores and online. If you find "Bean Sauce" (basically, the sauce without the chilies, you can substitute 3 tablespoons + minced red chilies in this Singapore Chili Crab recipe. The Bean Sauce without the chilies is saltier, that's why we decrease the amount used.
Recipes using Hot Bean Sauce
Recommended Equipment
Yum
Singapore Chili Crab Recipe

Reprinted with Permission from Tuttle Publishing. Recipe from Southeast Asia's Best Recipes by Wendy Hutton. Photography by Masano Kawana.

If you do not have fresh crab, substitute with 1 1/2 pounds of jumbo shell-on shrimp — but only cook for 5-7 minutes in Step 3.

In Singapore, mud crabs are used in this dish, but substitute with any fresh crab – my favorite is Dungeness or blue crab – though blue crab is so small, it may be difficult to tease out the meat if you're not accustomed to it! You can even use soft-shelled crab.

The perfect accompaniment to this Singapore Chili Crab Recipe is crusty French bread to mop up the sauce.

Ingredients:

3-4 pounds live crab
2 tablespoons oil
6 shallots, minced
6 large cloves garlic, minced
2 tablespoons finely minced ginger
3 red bird's eye chilies, minced
3 1/2 cups (875 ml) chicken stock
4 tablespoons hot bean paste
1/4 cup (60 ml) bottled chili sauce
1/2 cup (125ml) canned tomato sauce
1 tablespoon sugar
2 tablespoons Chinese rice wine (or dry sherry)
2 teaspoons salt
1 teaspoon white pepper (or black pepper)
2 tablespoons cornstarch, mixed with 3 tablespoons water


2 eggs, lightly beaten

FOR THE CHILI GINGER SAUCE:
6 red finger-length chilies, minced
5 cloves garlic, minced
2 tablespoons finely minced ginger
2 teaspoons sugar
1/2 teaspoon salt
1 teaspoon rice vinegar


1 tablespoon water

Directions:

1. Place the live crabs in the freezer for 15 minutes to immobilize them. Cut in half, lengthwise with a cleaver or large chef's knife and remove the back and discard the spongy grey matter. Take off the claws and crack in several places with a cleaver. Cut each body half into two to three pieces, leaving the legs attached.

2. Make the Chili-Ginger Sauce by whisking all the ingredients in a bowl. Set aside.

3. Heat the oil in a wok over medium-low heat and add the shallots, garlic, ginger and chilies. Stir-fry until fragrant, about 3 minutes, then add the Chili-Ginger Sauce, chicken stock, hot bean paste, chili sauce, tomato sauce, sugar, rice wine, salt and pepper. Bring to a boil, then lower the heat and simmer for 2 minutes. Add the crab pieces and simmer, uncovered, turning several times, until the shells are bright red and the crabs are cooked, about 10 minutes.

4. Add the cornstarch/water mixture and stir until the sauce thickens, about 30 seconds. Add the eggs and stir until set, then transfer the chili crab to a serving dish and serve with crusty bread.

Source: http://steamykitchen.com/40175-singapore-chili-crab-recipe.html